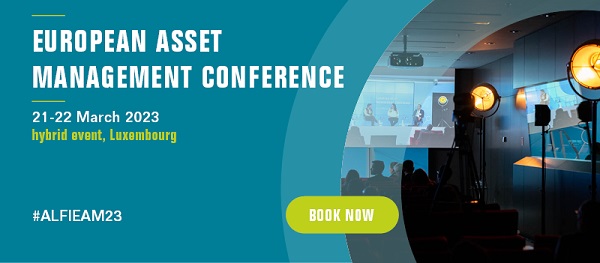 ALFI, the Luxembourg Fund Industry Association, is holding its next European Asset Management conference on 21 - 22 March 2023 in a hybrid format (physically at the European Convention Centre Luxembourg in Kirchberg).
During the two-day event, the European leading fund management community will meet thought leaders and get insights into industry matters.
PROGRAMME
Day 1 - Tuesday 21 March (08:00 - 18:00)
Government address from Luxembourg's Minister of Finance
Keynote by Verena Ross, ESMA's Chair
The big picture macro world and its implications for the asset management industry
Engaging with investors in times of volatile markets
Role of the fund board in implementing an ESG strategy
Driving alpha generation: How artificial intelligence and related technologies are being used to support investment decision making
Asset Servicing 2.0, next-generation tech solutions
Corporate taxation in Europe: Key trends and developments of relevance for Luxembourg management companies
From acronyms to ESG compliance or greenwashing?
Day 2 - Wednesday 22 March (08:00 - 17:00)
A word from the European Commission
Keynote by Wei Li, BlackRock's Managing Director, Global Chief Investment Strategist
Good COP? Bad COP? COP27, will the talking and grandstanding be followed by meaningful actions?
Update on key regulatory developments
Improving value to investors: is drastic change needed for success?
Protecting our waterways and forests
Product innovation and/or consolidation, what should we expect over the coming years?
The Luxembourg management company ecosystem 2023 - what is changing?
Let's hear it from the regulator - CSSF
Various rates are available - see https://www.alfi.lu (in-person / virtula / grouo / junior / fintech start-up / asset manager); the super early bird discount expires on 2 February 2023.