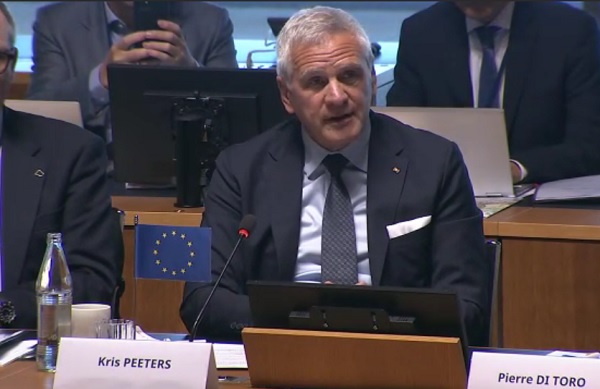 Kris Peeters, EIB Vice President, speaks at the opening session of the first IF CEED annual conference; Credit: Webex screenshot
The opening session of the first annual conference of the Incubation Forum for Circular Economy in European Defence (IF CEED) took place in a hybrid format at the European Convention Centre Luxembourg (ECCL) in Luxembourg-Kirchberg on Tuesday morning.
The European Defence Agency (EDA), with the support of Luxembourg's Directorate of Defence and the European Commission, launched IF CEED in early 2022.
On Tuesday 6 and Wednesday 7 September 2022, the first annual IF CEED conference is taking place at the ECCL, bringing together high-level representatives of the EDA, the European Union (EU) and governments, industry, research and development, academia and financial institutions. Sustainable defence efforts are at the heart of this first annual conference, which brings together more than 150 participants from 22 Member States.
In his welcome address, EDA Chief Executive Jiří Šedivý thanked Luxembourg's Directorate of Defence for its part in organising this event and in making the IF CEED project a reality. He highlighted the need within the defence sector for "a coordinated effort at EU level to become more resilient and autonomous and thus able to meet the challenges of both climate change and an increasingly hostile world", as well as the need to continue working with international partners such as NATO. Mr Šedivý also recalled that the ultimate goal of IF CEED is "the incubation of collaborative and transnational project ideas, roadmaps and other initiatives based on circular principles benefiting the defence ecosystem".
Speaking on behalf of Luxembourg's Deputy Prime Minister and Minister of Defence, François Bausch, who is currently on a working visit in Norway, Roland Reiland, Deputy Director of Luxembourg's Directorate of Defence, welcomed the success of this recently created forum as well as the importance that circularity has gained in the defence sector. He noted that Luxembourg believes that the circular economy will be the next paradigm shift if we want an economy that is sustainable, resilient and climate neutral – and this is also the case for the defence sector. Mr Reiland addressed the need to completely rethink value chains, for instance by fully integrating circular principles and ensuring that materials and components are designed and produced as much possible in a way that they can be reused or recycled after their first cycles of use. He emphasised the need to address this challenge together with European and international partners, including NATO, as well as the importance of widely sharing the experience and lessons learned in IF CEED's nine project circles (encompassing several hundred experts) among various stakeholders, from governments and industry to academia and financial institutions and organisations, such as the European Defence Fund (EDF) and the European Investment Bank (EIB). Mr Reiland expressed his satisfaction that several small and medium-sized enterprises (SMEs) and research institutions in Luxembourg are already involved in IF CEED's project circles and he hoped that this conference would further spark an interest and investment in the project.
The opening session continued with a keynote speech by Florika Fink-Hooijer, European Commission Director General for the Environment, who highlighted the challenges and opportunities of circularity in the defence sector. Looking at the broader context, she noted the historic (and current) role of environmental pressures, such as resources and commodities, in human conflict. She added that the Russian invasion of Ukraine had put "a spotlight on our dependency on resources", such as gas and grain. Such developments contribute to the need to achieve a climate neutral and resource efficient economy – the same applies to the defence sector. In addition to environmental impact, Ms Fink-Hooijer cited cost reduction, reduced dependency and more autonomy as reasons to look at circularity. She concluded by praising the success of IF CEED as a pilot project upon which stakeholders can now build.
In a "fireside chat" with Elisabeth Schoeffmann, Head of Media and Communication at the EDA, EIB Vice President Kris Peeters, recalled that the EIB has set aside €6 billion (as part of the European Security Initiative) until 2027 for various projects in the field of defence, security and space. Whilst the EIB cannot invest in weapon systems, it does provide loans for projects with dual use, i.e. projects where at least half of the costs and revenues relate to civilian security. He added that the EIB was "very eager" to develop its partnerships at EU level as well as with NATO. So far this year, the EIB has invested more than €1 billion in such projects. Mr Peeters also highlighted that the EIB was doing its part to support the implementation of the European Green Deal by financing such projects.
Jiří Šedivý concluded the opening session by thanking his colleagues at the EDA for having put together this ongoing two-day conference.