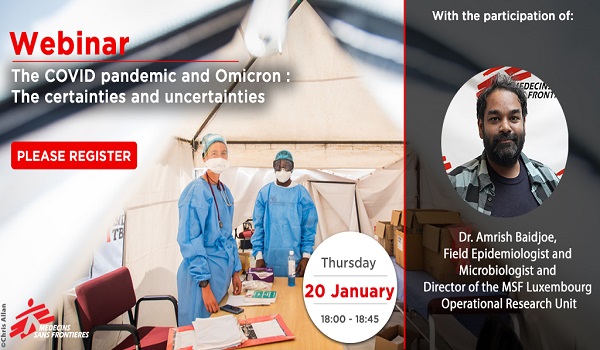 Credit: MSF Luxembourg / Chris Allan
The Luxembourg branch of the international medical humanitarian association Médecins Sans Frontières (MSF) has announced that it is organising a webinar, in English, entitled "The COVID pandemic and Omicron: The certainties and uncertainties" on Thursday 20 January 2022, from 18:00 to 18:45.
During this free online event, attendees will learn more about the current situation of the COVID-19 pandemic, insights on vaccine equity and the impact of the pandemic on vulnerable populations.
This webinar takes the form of a Q&A session with Dr. Amrish Baidjoe, Field Epidemiologist and Microbiologist and Director of the MSF Luxembourg Operational Research unit, whol will be available to answer questions from attendees about the topic.
To attend, register by Wednesday 19 January 2022 at https://us6.list-manage.com/survey?u=8bd4682a4b07c7d0f54f86ba8&id=3e6005f6fa&attribution=false.
The webinar comes as the MSF renews its appeal vaccine equity. With the World Health Organization's (WHO) forecasts indicating that more than 50% of Europeans are likely to become infected with the Omicron variant in the next six to eight weeks, MSF has urged the European Union (EU) and governments around the world to take all necessary measures to ensure equitable distribution of COVID-19 medical tools including medicines, tests and vaccines in order to reduce global mortality and the likelihood of further variants developing.