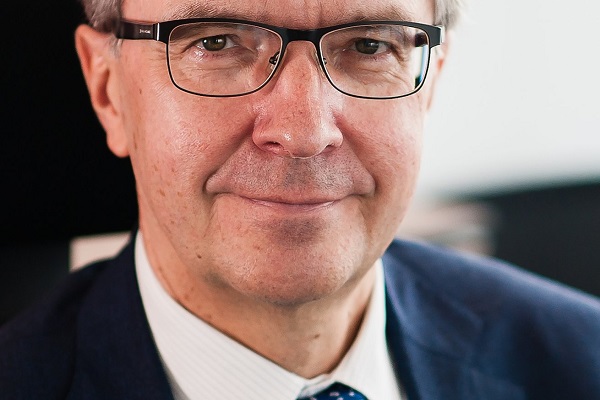 Pentti Hakkarainen, Member of ECB Supervisory Board; Credit: IFIS
The Institute for Financial Integrity and Sustainability (IFIS), previously known as the Institute for Global Financial Integrity (TIGFI), has announced that it is organising a hybrid conference and lunch with Pentti Hakkarainen, Member of the Supervisory Board of the European Central Bank (ECB), on Thursday 13 January 2022 from 12:30 to 14:00.
Pentti Hakkarainen will discuss the following topic: "Defining the Key Priorities of the ECB", in effect considering the role of the European Single Supervisor during the digital transformation of the financial industry.
In line with the ECBs latest rules, Mr Hakkarainen is unable to travel abroad. However, he will address the audience remotely. IFIS members and guests are invited to join either in person at Cercle Munster in Luxembourg-Grund or via Zoom (link to be provided upon registration).
The event is set to go ahead under 2G+ (vaccinated or recovered from COVID-19, plus a negative test) conditions despite the obstacles presented by the coronavirus pandemic. "We feel it is important that, despite the inconveniences and anxiety that COVID-19 is generating, that we do what we can to maintain a semblance of normality", explained Anthony Smith-Meyer, Executive Director of IFIS. "To do so we have to provide the safest conditions possible and practicable for in-person events, but also to use those possibilities technology can offer us for enabling remote participation, in what will be a hybrid event. In this case, it allows Mr Hakkarainen to attend our lunch conference despite the travel restrictions imposed by the ECB on their staff, and it will allow those participants who still feel uncomfortable with physical proximity to others to be included in the event".
To register for this event, visit https://www.ifis.lu/events-1/conference-lunch-with-pentti-hakkarainen-member-of-the-ecb-supervisory-board.​
About the speaker
Pentti Hakkarainen has been a Member of the Supervisory Board of the ECB since 1 February 2017. Among other tasks, he holds responsibility for digital agenda, budgetary issues, supervisory reporting, IT issues and audit activities. He was also a member of the Steering Committee of the Supervisory Board from 1 April 2017 until 31 March 2020.