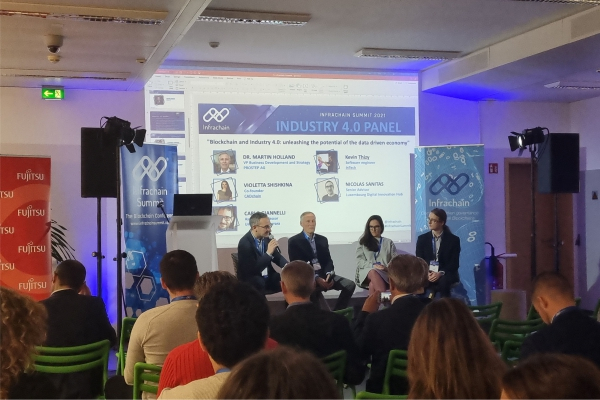 Credit: Magaly Piscarel (Infrachain)
The fifth edition of the Infrachain Summit, the blockchain conference, took place in Luxembourg and online on 18 November 2021.
Luxembourg's Minister of the Economy, Franz Fayot, opened the event by highlighting the economic importance of the key enabling technology: "Blockchain applications are addressing the needs for solutions that are driving the digital and ecological transformation of the economy, including the industry".
High-level cross-sector experts from Belgium, Estonia, France, Germany, Greece, Italy, Luxembourg, the Netherlands, Norway, Spain and the USA shared their experience on the benefits of blockchain in Industry 4.0, the circular economy and creative industries. The speakers presented operational use cases in 3D printing, chemicals tracing, recycling, IP and royalties management, entertainment and gaming.
The conference was a hybrid programme with presentations, keynotes and interactive discussions hosted in Luxembourg by Infrachain, in Italy by its members Net Service SpA, and online to offer a worldwide accessiblility. Over 200 participants registered for the summit.
Infrachain asbl, launced in May 2017 with the support of Digital Luxembourg, is a Luxembourg based non-profit organisation with a European scope. Infrachain is committed to create an on-top governance framework allowing blockchain applications to become operational in the current regulatory environment.