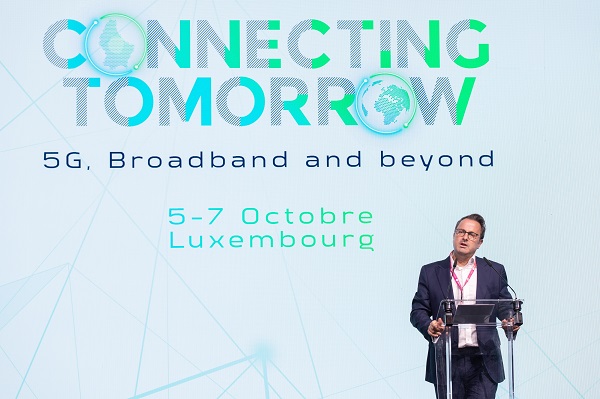 Xavier Bettel, Luxembourg's Prime Minister and Minister for Communications & Media; Credit: SIP / Jean-Christophe Verhaegen
On Tuesday 5 October 2021, Luxembourg's Prime Minister and Minister of Communications and Media, Xavier Bettel, gave the opening speech of the hybrid conference "Connecting Tomorrow", which is taking place in person at LuxExpo The Box in Luxembourg-Kirchberg and via an online platform from 5 to 7 October.
While the main theme of the conference is connectivity in all its facets, Prime Minister Xavier Bettel took this opportunity to present Luxembourg's new ultra-high-speed broadband strategy (for the period 2021-25) to telecommunications experts and other interested parties attending the event.
At the heart of this strategy is bringing connectivity to households without access to a (very) high-speed internet infrastructure. Whilst Luxembourg boasts very good connectivity on its territory, some households still do not have access to such infrastructure. A significant investment is thus deemed necessary.
Prime Minister Xavier Bettel justified this investment by highlighting his desire to close the digital divide. With the new ultra-high-speed broadband strategy, the Luxembourg Government intends to give itself the means to implement measures to support the connectivity of the most disadvantaged. In addition, the strategy will implement more transparency for the benefit of the public, according to the Prime Minister.
At the same time, the strategy is aimed at launching momentum to ensure the resilience and sustainability of the connectivity market ecosystem, as well as healthy competition in a growing market. "With this strategy, we are laying the foundation for the internet of 2025 and beyond", concluded Prime Minister Xavier Bettel.