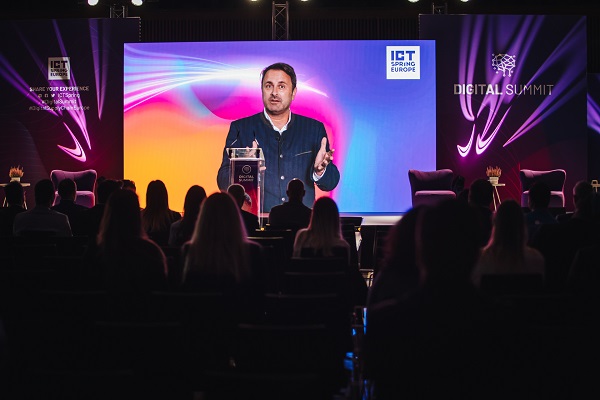 Credit: Farvest
Luxembourg's largest in-person event of the year, ICT Spring 2021, attracted more than 2,200 attendees last week.
This year's ICT Spring global tech conference took place at the European Convention Center Luxembourg (ECCL) on 14 and 15 September 2021. Organised by Farvest, this two-day event composed of keynotes, roundtables, meetings and networking allowed experts, managers, startups and investors to meet and discuss current issues and future trends in various sectors: ranging from FinTech to space, including cybersecurity, the digitalisation of services, the supply chain and the development of the startup ecosystem at the international level.
More than 2,200 people from 51 countries registered for this edition, during which over 2,350 bilateral contacts were made, more than 400 meetings were booked and over 6,000 messages were exchanged.
Being an unmissable event since 2010 and supported by the Luxembourg government as well as several companies committed to the future of the tech world and society, ICT Spring was the main event of the Digital ICT Week, organised from 13 to 17 September by the Luxembourg Chamber of Commerce and Enterprise Europe Network.
Due to the current health situation, ICT Spring 2021 took place in a hybrid format, with attendees having the possibility to join either on site or to follow the conferences broadcasted live on a dedicated platform. During these intense two days, more than 220 high-level international speakers shared their expertise on major tech trends, their impact on society and the working world. In addition, more than 55 exhibitors met and exchanged with the 2021 springers while featuring their products and services in the exhibition hall.
The event also encouraged emulation and networking between business leaders, decision makers, startups, researchers and venture capitalists (VCs).
For its inauguration, the Mastermind Summit & Competition offered a brand new conference dedicated to entrepreneurs, VCs and startups. Featuring some of the best international startups in the tech world, the Mastermind Competition rewarded three startups at the forefront of innovation. The winners of this first edition were FIN-PAY from Australia (FinTech), Encapsulate from Canada (DeepTech) and Pale Blue from Japan (NewSpace).