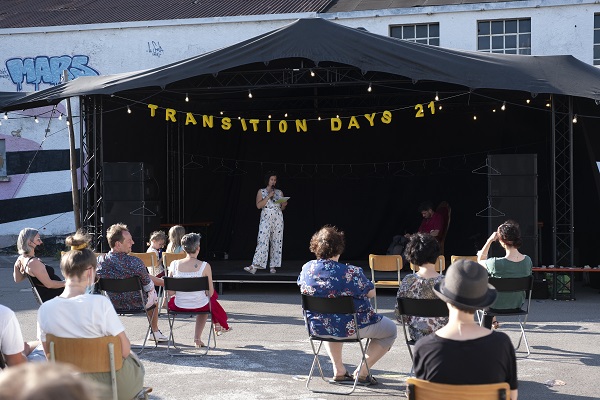 Credit: © Vinc Cardile
CELL – the Centre for Ecological Learning Luxembourg held its biannual festival "Transition Days Luxembourg" from 11 to 13 June 2021, at Carré cultural centre in Luxembourg-Hollerich.
A year after the 2020 edition was transformed into a nine-month virtual conference due to the COVID-19 pandemic, Transition Days 2021 brought together over 500 community members and a wide variety of organisations, activists and performers for a weekend of performances and workshops around transitioning to a more equitable, inclusive and sustainable society.
With the tagline "Open House: How to live together in a one planet world", the festival aimed to inspire attendees to help move towards a more resilient, just and responsible way of living as a society, exploring topics from climate action to critical thinking and personal well-being.
"After so many months without seeing each other, the festival was a real moment of reconnection for the Transition network in Luxembourg. We took part in meetings and deep discussions, but also had the chance to laugh and sing!" said Marine Henry, Coordinator of Transition Days at CELL.
The event opened on Friday 11 June 2021 with several workshops, followed by a humorous look at societal expectations and free will in the theatrical conference "À nos Choix!" by Belgian performers Olivier Vermeulen and Thomas Prédour. Attendees could then watch the passionate and unique performance of "MA2 Experience - Body to body sound" by dance and double-bass duo Man'OK.
The second day offered a packed programme of crash courses on topics including painting and dyeing with plants, sustainable finance, composting and sophrology, followed by the first of two performances of "Play!", a participatory artistic research project on childhood street games by Berlin-based Russian artists Ada Mukhina, Natasha Borenko and Lisa Siomicheva, in collaboration with Neumünster Abbey (neimënster).
In the afternoon, the festival acted as the end-point of the "Citizens Unite for Change!" March for Climate and Citizen Democracy, organised by Rise for Climate and CELL, which brought together more than 150 protestors. This was followed by a co-creation workshop on building citizens 'climate assemblies in Luxembourg.
The early evening offered a screening of the Luxembourg-produced documentary "Eng Äerd" (one earth), which shines a spotlight on local sustainable initiatives around the Grand Duchy, as well as a talk on Zetetics, an approach to critical thinking, by Thomas C. Durand. To finish off the night, festival-goers enjoyed the first post-confinement open-air concert by local band Seed to Tree.
The final day of the festival featured a variety of crash courses and workshops, including a co-creation workshop to put together a Luxembourg City-based transition group, and a second performance of "Play!". The afternoon had a musical note, with a relaunch of the militant choir, which brought attendees together to learn and sing protest songs and hymns of revolution.
The festival weekend closed with a performance by the ITINERANTES JAM SESSION, a group of six local musicians led by Gustavo Morales, who got the audience dancing and cheering.
Transition Days Luxembourg, an initiative of CELL - the transition hub, is a biannual festival that aims to crowd-source solutions to help bring about a more sustainable future, part of the global transition movement.