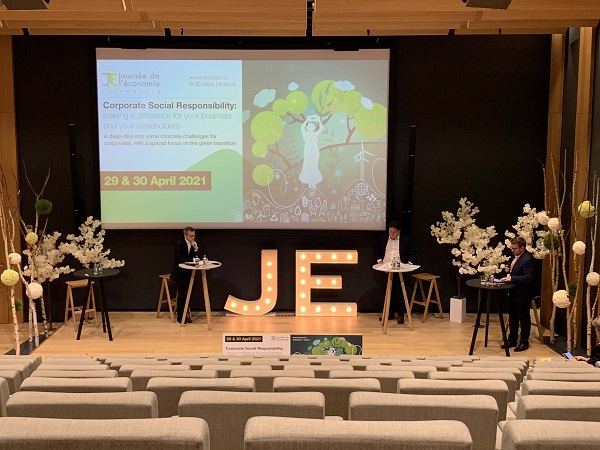 Credit: PwC Luxembourg
This year's edition of Luxembourg's "Journée de l'Economie" ("day of the economy") took place remotely on 29 and 30 April 2021; over 200 people registered for this two-day event which focused on coroproate social responsibility (CSR).
Organised by the Ministry of the Economy, the Luxembourg Chamber of Commerce and FEDIL –The Voice of Luxembourg's Industry, in cooperation with PwC Luxembourg, this year's Journée de l'Economie (JEcolux 2021), held in English and French, aimed at analysing in depth certain key aspects from the green transition for the real economy. Discussions looked at CSR issues from all angles (consumerism, manufacturing, reduction of carbon emissions, sustainable reporting, etc.). The conclusion was that the time is now for action but the road ahead will not be an easy one.
This year, the annual conference assembled leading names from the worlds of business, academia and politics to discuss and debate some critical issues linked more specifically with the environmental transition embedded in the push towards a more sustainable future. Experts from Luxembourg and international guests examined three key aspects in depth, all related to the green transition: taxonomy (reporting), environmental tax and the energy issue.
Day one focussed more on keynote speakers while day two saw participants "roll up their sleeves" in workshops, discussion groups or by giving presentations, all taking a deep-dive into strategic considerations such as "From shareholder capitalism to stakeholder capitalism: a path to strategic business transformation", "Green Economy - Strategic options in tax policy" and "Towards a sustainable Industry - what does that mean?"
As the pressure to become more sustainable continues to rise among societies and economies, businesses are moving to the front lines of this initiative, working together with governments and leading by example. As Carlo Thelen, Director General of the Luxembourg Chamber of Commerce, said: "Corporate Social Responsibility is going mainstream, but it's a demanding task for business that requires a strong commitment from governments to make it happen. Now it's time to put words into action to create a sustainable, economically resilient society".
However, business and industries cannot merely focus on introducing sustainability into their business core. To take decisive steps into a greener future, they will need to also set their sights on a greener economy.
Serge Allegrezza, Director General of STATEC, explained: "One can see that different stakeholders are converging around the idea of a greener future, notably politicians, lawmakers and corporates. The E of ESG has overcome the S and the G. However, in Luxembourg, businesses haven't focused enough on the green economy, although they are investing in the change motivated by different reasons being clients' demands among them. In this 2021 edition, we talk about taxonomy, taxation and the energy supply transition needed for the green economy".
Franz Fayot, Luxembourg's Minister of the Economy, emphasised that "Luxembourg is committed to the European Union's goal to achieve climate neutrality by 2050". He added: "We need to take advantage of future opportunities such as industry 4.0, cleantech, space, to name a few".
Ann Pettifor, Director of Policy Research in Macroeconomics (PRIME), discussed the green transition and the urgent need for economic transformation. "The world has finite resources. We need a steady economy that minimises waste and reuses and recycles materials," she explained. On how to start the green transition, she added: "We need to change our mindset about exponential growth and consumption and start focusing on our needs, not our wants. That's what the *Green New Deal (*in the US) is all about".
Mireille Martini, Policy Analyst at the OECD Environment Directorate on EU Taxonomy, walked the participants through the EU taxonomy and the challenge of defining sustainability, the current framework linking objectives together, which for now are only climate objectives. She noted: "The green transition cannot be done without international cooperation and we need to work together globally to define what is sustainable or not. The European Union has already started to produce its definition".
However, taxonomy is not the only challenge for businesses. Implementing ESG into the business core and into the investment decision-making is a complex process. John Parkhouse, CEO of PwC Luxembourg, shared his experience about the challenges of implementing ESG for a large company: "The challenge now is how to integrate the core areas and how to operationalise them. As a leader, when I look back, I realise how much I underestimated how difficult it is to do that... it's a long journey and there is a lot of work to be done".
The Journée de l'Economie is now officially over for another year. The organisers are hoping to hold the event once again on-site next year.