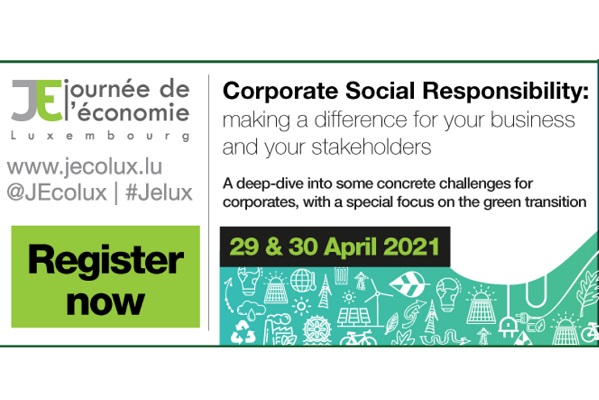 The 14th edition of Luxembourg's "Journée de l'Economie" ("day of the economy") will be taking place remotely on 29 and 30 April 2021.
Organised by the Ministry of the Economy, the Luxembourg Chamber of Commerce and FEDIL – The Voice of Luxembourg's Industry, in cooperation with PwC Luxembourg, this year's Journée de l'Economie (JEcolux 2021) aims to analyse in depth certain key aspects of the green transition for the real economy.
Environmental, social and corporate governance (ESG) has been driven to a peak (from niche to must have) by the growing demand of investors and stakeholders but also on a societal level as the world continues to move towards a greener future. The regulatory agenda around ESG in the financial sector has complex regulations and tight deadlines. The impact on the financial sector could be significant, both in Europe and in Luxembourg. The latter, due to the size and the international prominence of its financial centre, is right in the middle of what some qualify as a true paradigm shift.
An angle which is often overlooked is what all of this means in practice for the businesses in the real economy, which are the ultimate recipients of the financial flows intermediated by the financial sector.
This year's conference brings together leading names from the worlds of business, academia and politics to discuss and debate some critical issues linked more specifically with the environmental transition embedded in the push towards a more sustainable future. Academics and experts will examine three key aspects in depth, all related to the green transition: taxonomy (reporting), environmental tax and the energy issue.
The first half-day will host keynote speeches addressing these three areas and will see internationally renowned experts provide an up-to-date overview of the strategic issues in these topics. The second half-day will allow participants to ask questions, deepen the topics in elective workshops and have the opportunity to listen to a panel debate on the specific impacts for Luxembourg companies.
The speakers are:
- Franz Fayot, Luxembourg's Minister of the Economy
- Ann Pettifor, Director of Policy Research in Macroeconomics
- Mireille Martini, Policy Analyst at OECD Environment Directorate
- Dr Stefan Speck, Economic Assessments and Sustainability Expert at European Environment Agency
- Michael Grubb, Professor of Energy and Climate Change & Research Director at UCL Institute of Sustainable Resources.
The conference will be held in English and French.
To register and get the detailed agenda of JEcolux 2021, visit
www.jecolux.lu
.