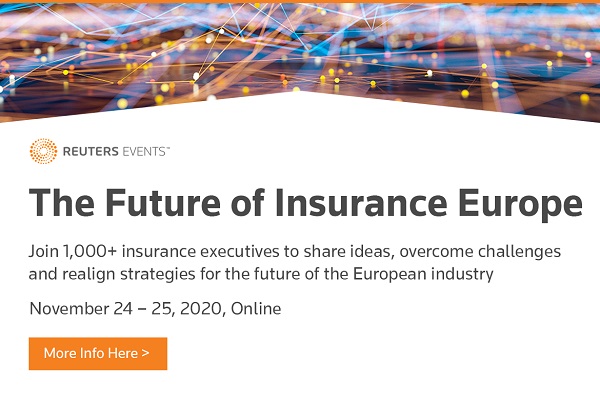 Credit: Reuters Events
The Future of Insurance Europe, organised by Reuters Events, will kick off online next week from 24 to 25 November 2020; this highly anticipated event will bring together the industry's most influential CEOs and C-suite executive teams.
The agenda has been finalised, the speakers are prepared and the event organisers are looking forward to tackling the biggest challenges plaguing insurers across the European marketplace. 2020 has provided plenty of disruption, but where there is volatility, there is opportunity. Join the discussions and set the roadmap for success in 2021.
Reuters Exclusive Interviews:
• CEO, GDV – Joerg Asmussen
• CEO, Beazley – Andrew Horton
• CEO, Legal & General – Nigel Wilson
• Chairman & CEO, Convex Group – Stephen Catlin
• Chairman & CEO, SCOR – Denis Kessler
• Executive Director of the Prudential Policy Directorate, Bank of England – Victoria Saporta
Panel Spotlights:
Reinforce Diversity As A Priority In Your Workforce
- Sonja Rottiers (CEO Europe, Lloyd's)
- Alison Martin (CEO EMEA, Zurich)
- Steve Wardlaw (Chairman & Co-Founder, Emerald Life)
Analysing Regulatory Risk For Britain & The EU
- Hans de Cuyper (Group CEO, Ageas)
- Felix Hufeld (President, BaFin)
- Julian Adams (Director of Public Policy & Regulation, M&G)
- Dimitris Zafeiris (Head of the Risks & Financial Stability Dept., EIOPA)
How To Maintain Competitive Advantage Through Technology
- Louise Smith (Chief Digital Officer, Lloyd's)
- David Germain (Group Chief Information Officer, RSA)
- Mario Ricco (Group Head of Global Claims, Generali)
- Peter Manchester (EY Global Insurance Consulting Leader & EY EMEIA Insurance Leader, EY)
With an unrivalled CEO and C-level line up, The Future of Insurance Europe 2020 is expecting more than 3,000 virtual attendees from across the European insurance market, providing key insight to ensure the industry can adapt and deliver throughout these troubling times.