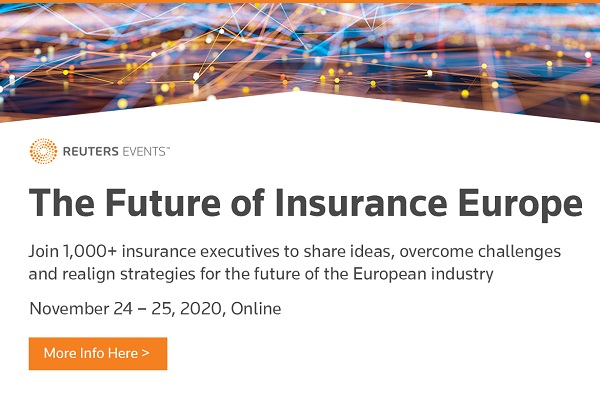 Various CEO and C-Suite insurance leaders have confirmed their attendance at the upcoming The Future of Insurance Europe event, organised by Reuters Events and taking place online on Tuesday 24 and Wednesday 25 November 2020.
The Future of Insurance Europe is the industry's most senior strategic conference, uniting top decision makers from across the insurance ecosystem. Insurance leaders must do the impossible, drive growth in the face of the largest recession in a generation. Comprising two days of CEO and C-level led executive discussion, this event will address the high-level trends and challenges that are transforming this rapidly evolving industry. The new digital, resilient and innovative future for insurance needs building, with future proof-strategies pivoting to enhance efficiency and reflect changing consumer demands.
Industry-leading CEOs and C-Suite Executives confirmed to speak at The Future of Insurance Europe include:
• Nigel Wilson, CEO, Legal & General
• Alison Martin, CEO EMEA, Zurich
• Denis Kessler, Chairman & CEO, SCOR
• Andrew Horton, CEO, Beazley
• Joerg Asmussen, CEO, GDV
• Nicolas Aubert, Head of Great Britain, Willis Towers Watson
• Steve Wardlaw, Chairman & Co-Founder, Emerald Life
• Georges Desvaux, Chief Strategy & Business Development Officer, AXA
• Hugo Wegbrans, Global Chief Broking Officer, Aon
• Jérôme Jean Haegeli, Group Chief Economist, Swiss Re
• Michael Steel, Global Head of Business Development, RMS
• Katja Pluto, Chief Risk Officer - EMEA, Zurich
• Felix Hufeld, President, BaFin
• Victoria Saporta, Executive Director of the Prudential Policy Directorate, Bank of England
• Mihkel Mandre, Chief Product Owner & Member of the Board, Swedbank Life Insurance SE, Swedbank P&C Insurance SE
• Dimitris Zafeiris, Head of Risks and Financial Stability Department, European Insurance and Occupational Pensions Authority, (EIOPA)
With an agenda that takes a focussed look at high-level issues on the minds of CEOs and C-suite executives across the continent, The Future of Insurance Europe is an unmissable event for all insurers looking to position themselves at the forefront of the industry.
With an unrivalled C-level line up, The Future of Insurance Europe 2020 is expecting more than 1,000 virtual attendees from across the European insurance market, providing key insight to ensure the industry can adapt and deliver throughout these troubling times.