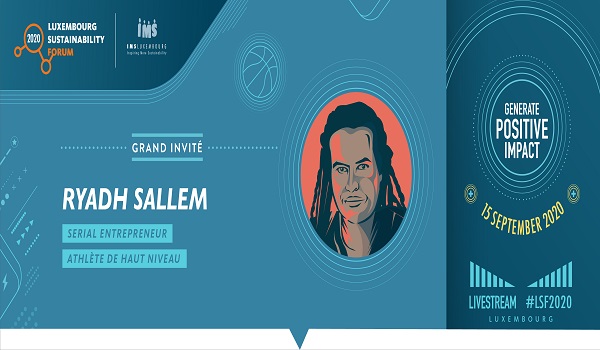 IMS (Inspiring More Sustainability) Luxembourg has confirmed that French high-level athlete and entrepreneur Ryadh Sallem will be the guest of honour at this year's virtual Luxembourg Sustainability Forum, taking place on Tuesday 15 September 2020.
Ambassador for Paris 2024 and five-time participant in the Paralympic Games, Ryadh Sallem is a many-time sports champion whose life is illustrated by the many fights and victories that he won in the social and solidarity field. He has initiated several humanitarian and associative projects aimed at fighting all forms of discrimination, founded CAPSAAA (a Parisian sports club dedicated to prevention / awareness of disability through sport), organised DEFISTIVAL and societal and cultural symposia and organised Educapcity, a large citizen rally to make young people aware of prevention and the fight against discrimination.
At the Luxembourg Sustainability Forum 2020, Ryadh Sallem will share his experiences in an interview with Marie Sauvignon from IMS Luxembourg. The interview will take place via live streaming at 16:45.
The event is free and open to all (upon registration). It will be given in French, translated simultaneously into English, Luxembourgish and German. For further information, see https://imslux.lu/fra/agenda/207_luxembourg-sustainability-forum-2020.