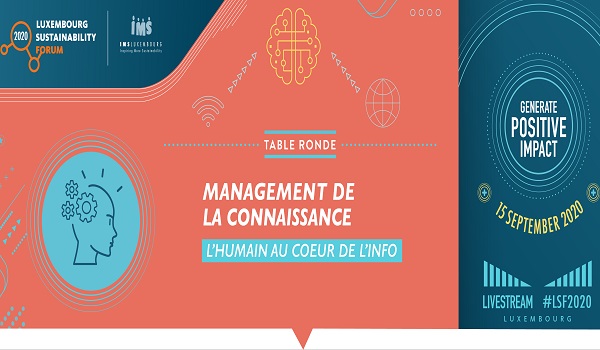 IMS (Inspiring More Sustainability) Luxembourg has announced the roundtable "Knowledge Management Roundtable: people are the information heart" as part of the upcoming edition of the Luxembourg Sustainability Forum; the roundtable will take place on Tuesday 15 September 2020 via live streaming.
Is it possible to win infobesity, this excess of information, communications and cognitive stimulations? Is digital well-being achievable within companies? Considering knowledge as all known information, but also as all people analysing and using them, how do we adapt our management systems to guarantee everyone the right piece of information at the right time and allow for the agility so highly valued by organisations?
The following experts will address these questions, among others, on this occasion: Caroline Sauvajol-Rialland, Infobesity and Information Management Expert at So Comment; Gaëtan de Lavilléon, CEO of Cog'Xx and Doctor of Neuroscience; Olivier Charbonnier, Managing Director of DSides. Mathilde Leré from IMS Luxembourg
will moderate the roundtable.
This free event is open to all (upon registration) and will be held in French with simultaneous translations into English, Luxembourgish and German. Register at https://imslux.lu/eng/agenda/207_luxembourg-sustainability-forum-2020.