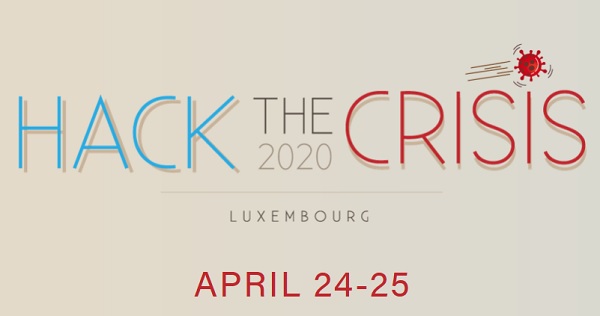 Farvest, together with the House of Startups and powered by the Luxembourg Chamber of Commerce, as well as with Hack Junction and Docler Holding, are launching the Luxembourg edition of the international "Hack the Crisis" initiative, which will be held online from April 24 to 25.
Registration (free-of-charge) is now open for individuals and teams to take part in this 24 or 48 hours of hackathon directly on the event website - www.hackthecrisisluxembourg.com
Following initiatives already launched around the world in places such as India, Hungary and Switzerland, the Grand Duchy is also organising a Hackathon to create solutions to help deal with the current crisis: saving lives, saving education, saving communities and social bonding, saving businesses and thinking about tomorrow.
Hack the Crisis is not exclusive to the IT sector and will go beyond the creation of technological or digital prototypes.
Participants will be given free rein over their concepts and creative ideas in order to solve the current challenges. It will also offer participants coaching sessions with different mentors from Luxembourg's ecosystem.
"We hope to activate Luxembourg with this Hackathon, but also the international scene as well. We want to gather ideas that can be quickly implemented now or post-crisis. We want to create as many possibilities as possible therefore we have decided to add more categories alongside those established by the creators of Hack the crisis, Garage 48 and Startup Estonia: saving education and communities, "explained Karoly Papp, CEO Docler Holding.
A Hackathon is 24 or 48 hours of IT development during which groups of voluntary developers and creative specialists meet to work on IT projects together. This project is open to the general public and is complementary to the programme launched by the Ministry of the Economy, which is only intended for startups.
"The IT community knows how to mobilise and be proactive, and we have proof of this every time we bring together young talent and experts from the sector. We are always amazed at inventiveness and the quality of the projects that participants develop for our annual Game of Code hackathon. We hope for a large number of participants and partners, because we believe that a collaboration of this magnitude will open up future possibilities for everyone involved. Additionally, this initiative will support charity projects and organizations by donating sponsors' contributions", commented Kamel Amroune, CEO of Farvest.
"This unprecedented situation requires us to come together, whether we are professionals from startups, SMEs, public authorities, or corporations, and work together in order to combat this crisis on several fronts. The best startups are often born out of necessity. I am therefore convinced that this Hackathon will give rise to solutions that can help overcome this crisis but will also give startups the opportunity to create or reinvent themselves," explained Philippe Linster, CEO House of Startups.