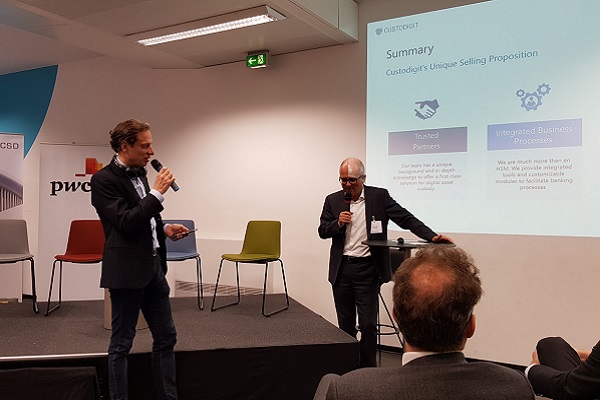 Frank Roessig, Head of Digital Finance Solutions at Telindus-Proximus, and Christian Bieri, Chief Commercial Officer at Custodigit; Credit: Jazmin Campbell
The fourth conference this year in the Association of the Luxembourg Fund Industry's (ALFI) Leading Edge series, held at the Luxembourg House of Financial Technology (LHoFT) on Wednesday 6 November 2019, examined the topic of cybersecurity and blockchain.
The morning session focussed on cybersecurity, namely in relation to regulations, cyber-management, artificial intelligence (AI) and reacting to cyber-attacks; the afternoon session saw local and international experts turn their attention to blockchain, including tokenisation and digital custody.
One of the highlights of the conference was the pitch session during which the following speakers briefly presented their respective startups: Christian Bieri, Chief Commercial Officer at Custodigit, who travelled over from Switzerland for the conference, as well as Olivier Portenseigne, Managing Director and Chief Commercial Officer of Fundsquare S.A., Tobias Seidl, Co-Founder and Product Strategy (lead) at STOKR, Alexander Tkachenko, Founder and CEO of VNX Exchange, and Philippe Van Hecke, COO of Tokeny.
Just prior to the pitches, Laurent Marochini, Co-Chairman of the ALFI Working Group Blockchain & Digital Assets, introduced the world of blockchain, particularly emphasising that whilst Luxembourg is still not one of the top 10 cities in this sector, there are 50 out of a total of 350-400 startups in Luxembourg that are dedicated to blockchain and cryptocurrency alone. He added that in order to "be part of the game", a country needs an ecosystem that will serve as the main driver in the sector.