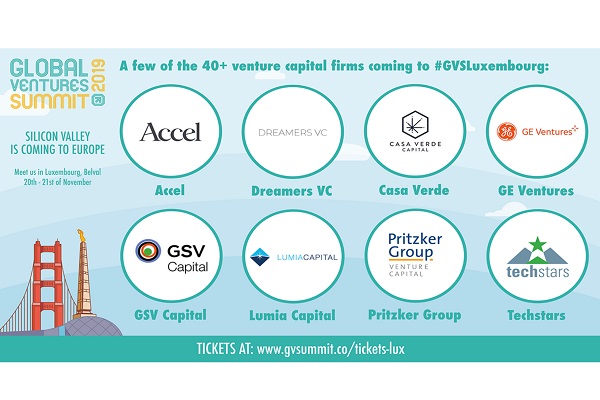 Silicon Valley-based investors and digital industry pioneers will descend on Luxembourg next month for the Global Ventures Summit (GVS) an event designed to connect them with some of Europe's leading venture capitalists and most promising start-ups.
The GVS is being held in Europe for the first time, having toured Indonesia and Mexico earlier this year. The summit is known for attracting inspirational and high-profile speakers from Silicon Valley's leading venture capital (VC) funds and big tech firms, with Europe's event in November hosting a star line up with confirmed speakers including Billy Zane of Parkpine Capital, Alex Estevez from Accel Partners and Karan Wadhera from Casa Verde. Luxembourg's Prime Minister, Xavier Bettel, and Finance Minister Pierre Gramegna will also be attending the event.
Most recently, the Luxembourg Private Equity and Venture Capital Association (LPEA) and the Luxembourg House of Financial Technology (the LHoFT) have been announced as flagship sponsors of the GVS, alongside a host of other international sponsors and partners including: Microsoft, American Airlines and Bitcoin.com, Digital Lëtzebuerg, Luxembourg For Finance, Luxinnovation, VNX Exchange, the House of Startups, Technoport, MTX Connect, the University of Luxembourg, Apollonian, KPMG and Hubspot. Several other sponsors will be confirmed in the coming weeks.
LPEA's CEO Rajaa Mekouar-Schneider said: "GVS perfectly fulfils our mission of matching talent and funding. GVS Europe will engage our professional community of investors – many of whom are family offices with a strong entrepreneurial DNA. We see a growing presence of VC players in Luxembourg, for which such events are critical to increase their international sourcing".

As a partner of the GVS, the LPEA will leverage its community of over 230 international private equity (PE) firms, including more than100 investors and family offices, to drive high-quality attendance at the summit. With its international reach, LPEA is also promoting the GVS outside Luxembourg to attract leading European VC personalities and investors.
Nasir Zubairi, CEO of the LHoFT, added: "GVS will further highlight the dynamic and exciting start up and digital ecosystem in Luxembourg across all sectors, with a focus on the huge strides forward we are making in Spacetech, Mobility, Indutech and Fintech in particular. Good ideas and businesses don't just come out of Silicon Valley; we have worked closely to ensure that the 40+ US based VCs are keen to invest in the many scalable, innovative and disruptive European start-ups due to attend".
GVS Europe's focus is on creating an environment to execute deals between Silicon Valley funds, high growth US Unicorns, European investors and start-ups. Over 40 US Silicon Valley Funds will be attending the GVS Europe, which also aims to attract over 100 global funds from the highest performing quartiles in the world with over $30 billion in assets under management (AUM) represented.