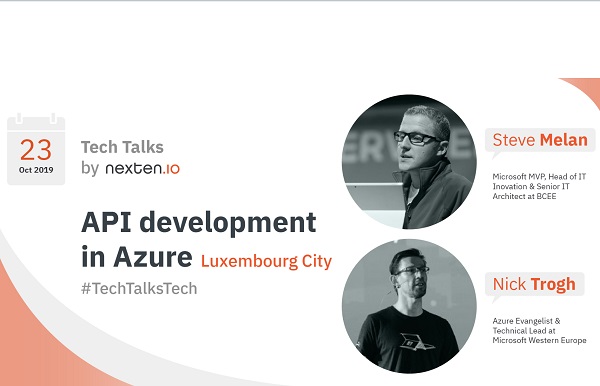 Nexten.io, a leading tech recruitment platform in Luxembourg, has announced that it is launching "Tech Talks by Nexten", a new series of events aimed at software developers and tech experts; the first talk will take place later this month.
On Wednesday 23 October 2019, Nick Trogh, a renowned Azure evangelist and Technical Lead from Microsoft Western Europe, will join Steve Melan, Head of IT Innovation and Senior Architect at Luxembourg's BCEE, to present API Development in Azure.
The series of evening events will feature in-depth technical discussions, bringing together everyone from software developers to tech leads from around Luxembourg and the Greater Region to learn, network and have fun.
Eric Busch, CEO of Nexten, explained: "There are many tech events organised in Luxembourg, but we noticed that these are mostly aimed at business people and CIOs. We saw the need to offer high-quality tech talks that would bring together the behind-the-scenes technical people from across the tech community to create connections and build momentum. This forms part of our long-term mission to support Luxembourg's development as an international tech hub".
Steve Melan, the first developer from Luxembourg to be awarded Microsoft's prestigious MVP Award, is one of several local tech experts called on by Nexten as an event advisor, to ensure that the talks address the most relevant topics for the local community and attract key international experts. Mr. Melan commented: "I believe these tech talks can create change in the local culture. [...] We need to create [a] tech community. Whether it's launching projects together, coding together, or sharing knowledge, we can create a great culture that will bring together local developers and convince new ones to come to Luxembourg".
Registration is now open for the first Tech Talk on 23 October 2019. The free event runs from 17:30 to 21:00 in Luxembourg City and features a joint talk with demos by the two speakers, followed by an audience discussion and drinks. More information and tickets are available at community.nexten.io/tech-talks.