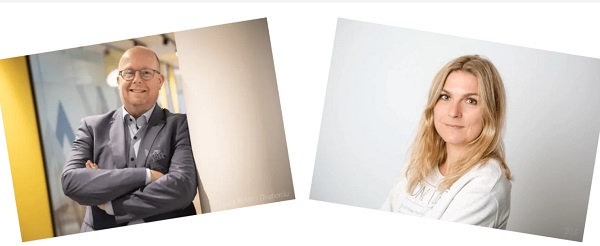 Founders Marco Houwen and Audrey Rouach Baverel; Credit: The HOW Institute
Entrepreneurs Audrey Rouach Baverel and Marco Houwen have launched the HOW Institute in Luxembourg.
Launched in response to 21st-century challenges, a rapidly changing world, workforce and global competition the HOW Institute will offer several workshop sessions and conferences throughout the year. These events will focus on leadership, design thinking and corporate social responsibility (CSR).
Through the organisation of in-house workshops, cross-company masterclasses, seminars and conferences the HOW Institute aims at empowering humans at the centre of today's corporate ecosystems, by showcasing new leadership models, human-centric products and future-oriented sustainability practices. As explained by Audrey Rouach Baverel, Mindstyle Coach and Consultant, "the HOW Institute is promoting these new facets of a successful and sustainable governance practice as a whole and helps all interested parties transpose these insights into desirable and actionable outputs."

Returning to the name of the institute, the focus is on "How?" questions: How can I assure a motivated and efficient workforce? How can I implement a future proof leadership model? How can I be more resilient in an ever challenging work environment? The HOW Institute also advocates sustainability for future growth. Its vision aims at creating lasting business success by focusing on design thinking and CSR. These approaches answer the following questions: How can I switch from tech driven products to user driven experience? How to create a company culture in line with my personal sustainability values? How can I setup an empowering organisational style and still combine people and company growth?
To celebrate its launch, the HOW Institute is organising its first workshop session on 24 April 2019 in Luxembourg, together with David Goldsmith, world renowned leadership expert and author of the book "Paid to Think", and Grace Rachmany, co-author of the book "So you've got a DAO..." and expert in 21st century leadership and decentralised governance. The goal of this day-long workshop is to "Demystify Creativity and Leadership in an AI future", by mastering several tools helping leaders better retain and find talent and clients and better forecast the challenges ahead, as well as expanding business opportunities and transforming threats into opportunities.
For more information, visit https://www.how-institute.lu/.