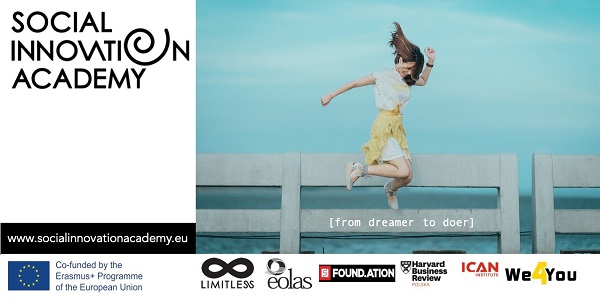 On 24 January 2019, from 18:00 - 21:30, the Social Innovation Academy project will celebrate the launch of its beta edition at an exciting event held at The Office City co-working space (29 Boulevard Prince Henri, Luxembourg-ville).
The first fully online management training programme in Europe to focus exclusively on social innovation, the project aims to develop quality training for businesses, NGOs, innovation spaces and aspiring social entrepreneurs on the theory and practice behind social innovation to enable them to carry out their own projects with a social impact. Co-funded by the Erasmus+ Programme of the European Union, the Social Innovation Academy is coordinated from Luxembourg by Limitless and carried out in collaboration with experienced partners from Greece, Poland, Spain and Slovenia.
The launch event will bring together the diverse community of social innovators active in Luxembourg for an evening of networking and learning. Panelists and guests include Frédérique Buck (founder of initiatives such as iamnotarefugee.lu and Chiche), Lidia Gryszkiewicz (co-founder of The Impact Lab), Carolina Parisi (the founding curator of Global Shapers Community and country chair for Luxembourg Global Dignity), Anna Radulowski (co-director of Founder Institute and founder & CEO of Coding Girls), among others. "The evening will unite the local community of actors working to solve societal challenges in innovative ways, whether through social enterprises, corporate innovation projects, public sector projects or non-profit associations," explained Dariusz Sikora, Social Innovation Academy project coordinator and CEO of Limitless.
Attendees will have the chance to learn more about the project through presentations and panel discussions. "We're excited to present the preliminary project results, including the conclusions of our research on core social innovation skills, which were published by the London School of Economics, as well as the beta version of the Social Innovation Academy," says Sikora. Running until August 2019, the project is now in the testing phase and offers free-of-charge access to the online learning platform. Following their own areas of interest, users are led through a series of modules on the theoretical and practical aspects of social innovation with the opportunity to take a self-assessment on completion.
About the Social Innovation Academy
The first fully online management training programme in Europe to focus exclusively on social innovation, the Social Innovation Academy is a project co-funded by the Erasmus+ Programme of the European Union and carried out by a consortium of partners from Luxembourg, Greece, Poland, Spain and Slovenia. Learn more at http://www.socialinnovationacademy.eu