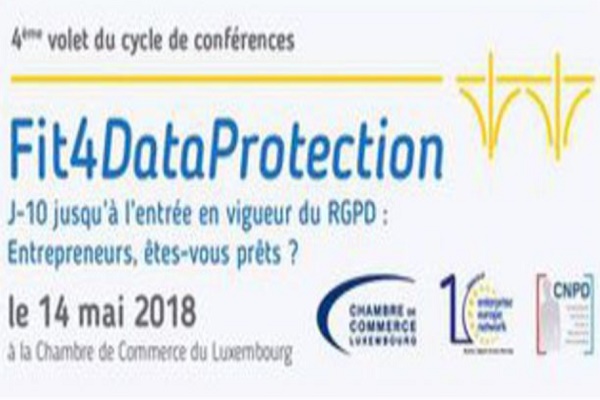 The final conference in the Luxembourg Chamber of Commerce's "Fit4DataProtection" series will be held next Monday 14 May 2018 from 08:30-14:30 at the Chamber's Conference Centre (7, rue Alcide de Gasperi, L-2981 Luxembourg).
The Luxembourg Chamber of Commerce and its Enterprise Europe Network Luxembourg, in collaboration with the National Commission for Data Protection, have announced the end of its "Fit4DataProtection" conference cycle.
The conference "10 days until the entry into force of the GDPR: practical advice in terms of organisation and internal procedures, human resources, marketing and data transfer"- in line with the 3rd conference held on 7 March 2018- aims to summarise essential actions with a view to bringing them into line with European regulations and dealing with issues and themes specific to certain sectors.
Questions to be dealt with at the conference include: How to establish a registry of data processing? What to do when outsourcing data? What are the internal procedures to implement? What are the expectations and requests of the CNPD during the inspection visits?
The conference will be followed by a networking lunch and two workshops dealing with the following topics: the 10 best practices for marketing: the management of customer data in accordance with the RGPD, the case of profiling, control of rules when using social networks, and issues related to the transfer of personal data: cross-border flows, reconciliation of professional secrecy and transfer.
The conference cycle has been organised in participation with the ABBL, the ACA, the clc, the FEDIL and the HORESCA.
For the full programme: http://www.cc.lu/autres-services/manifestations/detail/?user_ccagenda_pi1%5BshowUid%5D=1248%20and%20http:%20//www.een-%20events.com/fit4dataprotection-volet4/Home/Page/127