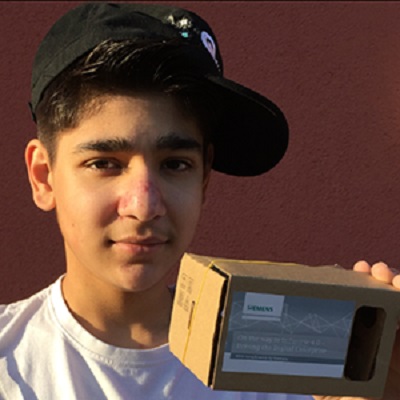 14-year-old Atreyam Sharma, the co-founder and Vice-President of Luxembourg's coding hub Workshop4Me will be addressing the Lift Conference on innovation and digital technologies taking place in Switzerland from 10 to 12 February 2016.
The self-styled 'technology geek' and 'hardcore gamer' has received recognition as one of the youngest entrepreneurs, coders and gamers in Continental Europe. At just fourteen years old, he has already been recognised by BGL BNP Paribas for conducting a national ICT training session and received an award from supermarket Delhaize for using computational thinking to solve an operational issue with an automatic door. Atreyam has chosen to share his knowledge with the community, providing ICT skills to underprivileged children in India during his holidays and co-founding the coding programme Workshop4Me, which teaches coding to 7-16 year olds in Luxembourg.
Atreyam is no stranger to making speeches, having spoken at the Geek Girls Carrots event and presented a Kanban Board project at the Project management Institute Luxembourg chapter at the tender age of nine. Now Atreyam will be offering his insights at the 2016 edition of the Lift Conference, which has now been exploring the business and social implications of technological innovation for ten years. Lift brings together observers, explorers and builders from around the world to examine current challenges and creative solutions in the field of emerging technologies and has so far welcomed more than 15,000 participants across 30 events since 2006.
Atreyam will be joining other notable figures in the field at the conference, including MIT Research Scientist and Project Manager of Climate CoLab, Laur Fisher; award-winning author at Principal Analysr at the Altimeter Group, Brian Solis; and Alex Lebrun, Head of Wit.ai at Facebook.
For more information on Atreyam Sharma and to follow his progress at the Lift Conference, follow Workshop4Me's Facebook page.
Photo by Workshop4Me (Atreyam Sharma)