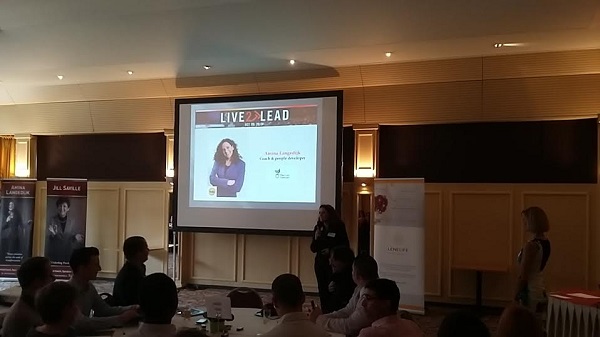 The Live2Lead conference, orchestrated by the best selling author and leadership coach John C Maxwell, was held at the Park Hotel Belle-Vue on Friday, with Maxwell's talk that day going out to 40,000 participants over 100 global sites.
Military leadership and coaching differs from its civilian counterpart, due to the end goal military personnel are sometimes required to fulfil - defence policy, or closing with and killing the enemy. Military leadership is direct, quick, and non-emotional, whereas Maxwell's principles of leadership and coaching base themselves on the human, his emotions and his character and how he operates and manipulates people around him. Coaches of all walks of life can learn from Maxwell.
It was for this reason that other coaches from Luxembourg were present at the conference, such as Annica Törneryd who has coached numerous students across Europe through Act2Exceed.com and was there to refresh her coaching techniques.
Lene Pederson from Lenelife briefly introduced her company as she was the catering host for the afternoon, and the audience was able to sample her 'amuse-bouche' at the networking cocktail later.
Amines Langedijk was the John C Maxwell host present in Luxembourg and explained the programme for the afternoon.
Patrick Lencioni, founder of the table group was the first speaker, explaining that an organisation must be smart and must be healthy. In today's world, nearly all companies are smart, otherwise they would not survive. To be the best, a company must be healthy and Lencioni has 4 disciplines that belong to creating a healthy organisation: 1. Build a cohesive Leadership Team 2. Create Clarity 3. Over communicate clarity 4. Reinforce clarity. Lencioni has consulted for South West Airlines and used some very good case studies of their senior executive team to highlight his coaching method. Like all speakers that day, Lencioni could have been an actor. His stage presence is confident, he is engaging and puts his audience at ease.
John C. Maxwell was the second speaker and quickly broached his current theme, Intentional Living. Having been a pastor, Maxwell's leadership is designed not just for the corporate environment, but for the everyday person. Intentional living is about being significant and deliberate and applying consistency to one's life. Rather than allowing people to just go along in life, accepting what happens to them, Maxwell's theory is to plan for growth in life and to value and believe in people.
Again, he was a great speaker and showman, and got some laughs out of the audience. He was inspiring and he created a vibe in the room.
Both speakers knew their subjects inside out, and their practices linked with their examples made perfect sense. Both speakers knew their subjects inside out, and their practices linked with their examples made perfect sense. The British Army's young officers at the Royal Military Academy of Sandhurst are primarily taught leadership and management, and a coaching method is used here. Lencioni specifically talked about adopting a vulnerable-open culture and allowing co-workers to see this.
In the British Army, adopting vulnerability, or allowing your team around you to see your imperfections and that you also make mistakes, could mean jeopardising your soldiers' lives. Hence why both moral and physical courage are one of the Army's values and standards. In this context, a correlation between both speakers' theories and the Army's teaching is visible. Coaching and leadership is all inspirational and apart from different vocabulary, it all comes down to spending time with your co-workers/employees/team and being a listener. After that, it's about planning and communicating, with your student leading both activities. Most coaches pick and choose from different coaches and then come up with their own methods.
Valerie Burton was the third speaker and her theories echoed the same lines as Lencioni and Maxwell. Reach out. Operate with Optimism. Be resilient. Smile. A common theory in coaching is to use failure and mistakes as a learning potential and she reinforced this again. She pitched a fixed mindset vs. a growth mindset and that if we allow for growth and put things in to perspective we will grow as individuals and as leaders.
Finally, Maxwell interviewed Kevin Turner, COO of Microsoft. Turner's advice was to have an open door policy, dream big and not to allow someone else to define your success. John Maxwell finished the afternoon by speaking about his Rule of 5.
It was an inspiring afternoon, reinforcing leadership principles. The Americans are very good at the 'Ye-ha' factor and at talking. It was all positive thinking and 'You can do it'. And they are very right in this thinking. The reality of coaching is different and anybody who has ever coached will know that it is not always this straight forward, happy and positive. There is a lot of repetition, acceptance of one's weaknesses, re-structuring to name but a few and this all costs time. An inspiring afternoon and highly recommendable for 2016.
Photo by Frazer Alexander