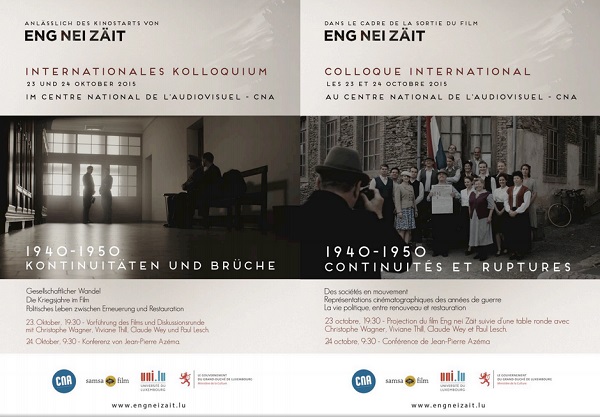 In conjunction with the release of the film 'Eng nei Zaït', the University of Luxembourg will be offering an international and multidisciplinary colloquium entitled '1940-1950: Continuities and Ruptures' as part of the University's mission to offer a public space of reflection and inquiry for Luxembourg society.
The conference will take place on 23 and 24 October 2015 at the National Audiovisual Centre in Dudelange, with the support of the CNA, samsa film and ThinkTwice, and will re-examine the recent past of Luxembourg through an analysis of occupation and liberation through the 1940s and 1950s. Changing perception from the Liberation as a radical caesura allows strong political, social and cultural continuities to show.
The conference will be divided into three main themes, these being the transformation of societies during the occupation, cinematic depictions of the war years, and the political life between renewal and restoration. A dozen participants from Luxembourg, France, Germany, Belgium, Hungary and Greece will be present to intervene at the conference, which will be provided in French and German with simultaneous translation.
Additionally, the 'Eng nei Zaït' film will be broadcast on 23 October 2015, followed by a panel discussion with director, Christopher Wagner, writer Viviane Thill and historians Paul Lesch and Claude Wey.
The following day will involve a conference by Jean-Pierre Azéma, specialist on the occupation of France and Scientific Advisor to the series 'Un Village Français', which has been broadcast on France 3 since 2009.
Registration for the conference and roundtable on 23 October can be done until 16 October 2015 by contacting colloque@engneizait.lu. Registrants may also attend the film screening on 23 October for free.
Photo by Uni.lu