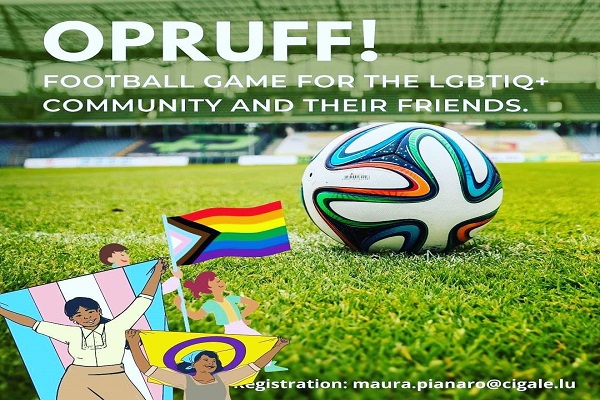 Credit: Centre LGBTIQ+ CIGALE
The Centre LGBTIQ+ CIGALE is organising an inclusive LGBTIQ+ football game on Saturday 3 June 2023 at the Stade Josy Barthel in Luxembourg-Belair.
According to the organisers, this event aims to provide a safe space for LGBTIQ+ individuals to engage in sports activities, but it is also meant to promote inclusivity and raise awareness. The Centre CIGALE has invited players, referees and supporters to participate.
The programme includes the football game itself, a show, a barbecue, snacks and drinks. Entry is free, but registration is required via email to maura.pianaro@cigale.lu by the deadline of 22 May 2023.
The Centre LGBTIQ+ CIGALE is an organisation created in 2002, dedicated to supporting the LGBTIQ+ community in Luxembourg, i.e. individuals who identify as lesbian, gay, bisexual, trans, intersex, and queer, as well as anyone interested in topics related to sexual and gender diversity.
Representatives of the organisation told Chronicle.lu that their focus this year has been addressing the experiences of LGBTIQ+ individuals in sports, following "numerous requests" received by the centre in 2021. As an initial step to promote the inclusion of LGBTIQ+ people in sports and raise awareness among sports clubs, schools, gyms and yoga studios, the organisation decided to host a football game.
This event is meant to provide the LGBTIQ+ community allies a space to engage in sports but also address the challenges and discrimination faced by the LGBTIQ+ community in sports, notably transgender and intersex individuals.
The topic of diversity in sports has gained increasing visibility in recent years. However, according to the Centre LGBTIQ+ CIGALE, transgender and intersex individuals are rarely acknowledged or explicitly addressed in football and sports clubs. Furthermore, there is a lack of information and trained professionals, such as coaches and instructors, in the sports industry regarding these topics.
After the football game, the Centre LGBTIQ+ CIGALE will host a roundtable discussion on the topic of queer people in sports and discuss how sports clubs in Luxembourg can become more LGBTIQ+ inclusive. The aim is to thereby reach a wider audience, raise awareness of inter- and transphobia in football and other sports, and promote the creation of inclusive spaces and the training of professionals.
The organisation is currently also working on the "Living Photographs" project, an initiative that aims to promote visibility and diversity among LGBTIQ+ people in Luxembourg through photographs and shared stories. This project provides a platform for the community to share their experiences, become more visible and let their voices be heard.
Centre LGBTIQ+ Cigale operates with a small team of five people and is funded by Luxembourg's Ministry of Family, Integration, and the Greater Region. All the services provided at the Centre Cigale are free for the community. Volunteers also support the organisation and running of events, activities, and interventions in schools, youth homes and various information stands. Those interested in volunteering can contact the organisation via email: info@cigale.lu.