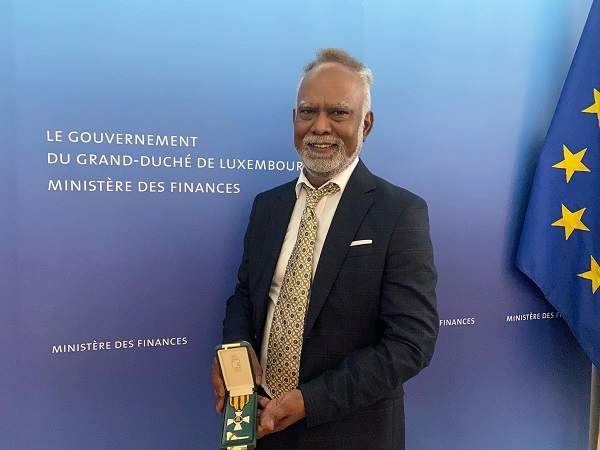 Selvaraj "Selva" Alagumalai;
On Wednesday 20 July 2022, Selvaraj Alagumalai was presented with the "Ordre de la Couronne de Chêne - Chevalier" (Order of the Oak Crown), bestowed upon him by the Luxembourg government following the recent national day on 23 June.
The presentation was made at the Ministry of Finance by Corinne Cahen, Luxembourg's Minister for Family Affairs and Integration and Minister for the Greater Region.
Selva, the name by which he is known to all, was born and brought up in Madurai, India; he moved to Luxembourg in 1992. He first came to Luxembourg in 1988 as an IT Consultant for a year. "I really liked the country and its way of life, so I was hoping to return. Luckily, I was given the opportunity again in 1992, where I was asked to come for a six-month project".
He arrived with his young family (his wife and their twin baby daughters); however, not everything ran according to plan and, after three months, he revealed that his wife wanted to return to India as the transition to being away from family had been difficult for her. They agreed to stay put for the next three months to complete the project. "Little by little, my wife started to fall in love with the country as I had done before".
Five years later, he saw an opportunity in the banking sectors' technology side and he started his own company, Fouress Systems SA, in 1997; "perhaps the first Indian IT company headquartered in Luxembourg" he thought when talking with Chronicle.lu.
In 1992, Selva started to volunteer at the Indian Association of Luxembourg (IAL) and, since 2013, he has assumed the role of president. The IAL promotes Indian culture, by way of organising festivals, often involving food, and a range of various other activities throughout the year. When asked about his highlights, he revealed: "The highlight for me has been the celebration of India Day, introduced in 2016 and celebrated annually. It is a popular event held in the heart of Luxembourg City".
On receiving the Luxembourg honour, he stated: "I am incredibly humbled and honoured... I think my biggest achievement in life is a combination of all that has brought me to the position I am today. I never imagined that the young boy - who would spend his spare time helping at his father's humble corner shop in India - would be able to move to another country, start an IT company, navigate through ups and downs for 25 years then receive a prestigious medal recognising my endeavour".
He added: "I truly believe that Luxembourg is 'small enough to care and big enough to share'. In the last 30 years in Luxembourg, we have met so many kind-hearted people who have helped and supported me throughout my journey and to all of them a very big thank you from the bottom of my heart".
Not forgetting family, he concluded: "I would also like to thank my three kids (Swathi, Swetha and Surya) who have always been incredibly supportive. Most importantly, I would like to thank my life and business partner Sujatha, without her 30 years in Luxembourg and 25 years of Fouress would not have been possible and for her support I am eternally grateful".