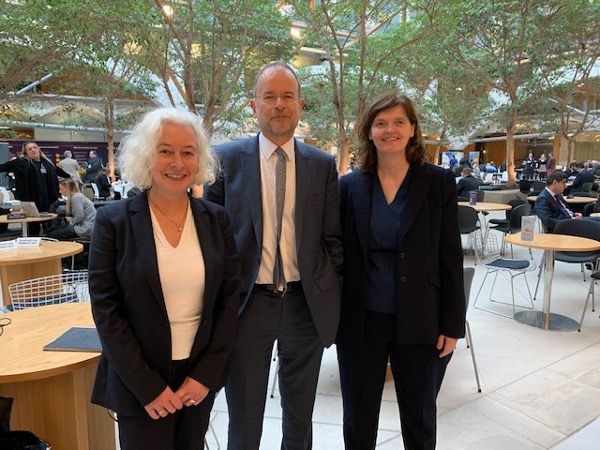 (L-R): Jane Golding, Labour MP Paul Blomfield, Fiona Godfrey. Paul Blomfield is a member of the Labour shadow Brexit team with responsibility for citizens rights.; Credit: BRILL
Fiona Godfrey, co-chair of Britain in Europe, was awarded an OBE in the Queen's Birthday Honours List published on Saturday 12 June 2021.
The Birthday Honours list recognises people who have given exceptional service to the UK abroad and internationally. She received the Knight Bachelor and Order of the British Empire honour in the Overseas and International List "for services to British nationals in Europe".
Fiona Godfrey commented "This was a big surprise and it was not an easy decision to accept. In addition, I have to say that there are two people, Kathryn and Kalba, whose names should be on this list with mine and Jane's (Jane Golding, Britain in Europe co-chair). They have worked their socks off for UK citizens in France and I am gutted that their hard work and dedication has not been recognised... Finally, this honour is also for our families and, particularly, our spouses and children, André, Max, Anna, Miguel, Lucas, and Saskia. We could not have fought for the rights of UK citizens across the EEA and Switzerland for so long without their love, understanding and support. They make everything we do possible".
Fiona Godfrey was particularly active in BRitish Immigrants Living In Luxembourg (BRILL), a community group of British immigrants living in Luxembourg established in July 2016 in response to the Brexit referendum. BRILL is a member of British In Europe (BiE) of which she is co-chair.