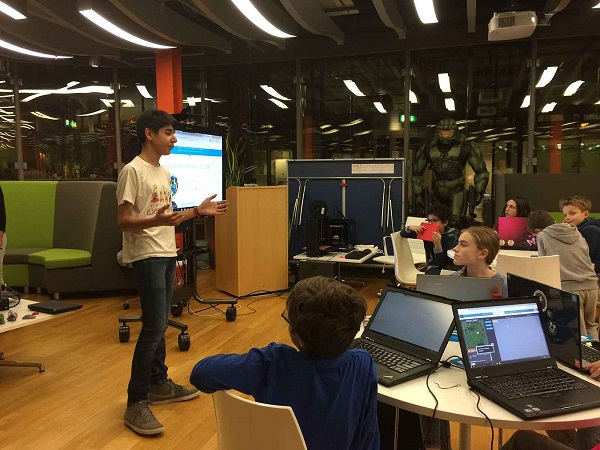 14 year-old Leo and his mother, Madhumalti Sharma, are currently in India to deliver a TEDx Talk on Sunday 14 August
Leo is described as a motivated teenager who loves coding and gaming; together with his mother, Madhumalti, he founded Workshop4Me.org, a non-profit organisation based in Luxembourg, whose objective is to promote coding skills among children and adults. He runs the workshops over the week-ends as his mother works full-time in technology during the week. He recently was the youngest ever speaker at the LIFT Conference in Geneva and delivered his talk in front of an audience of 750 people.
He has been a speaker at PMI Luxembourg event sharing how he uses the Kanban Board to organise his homework. He uses his problem-solving skills to help solve real world problems like solving a glitch at Delhaize supermarket. More recently, he did a 4-week internship at a technical company, KloneWorld, in India in which he developed an iOS app using Swift.
They also ran a paper-based coding workshop for under-privileged children in a slum in India and also ran a coding workshop for 500 students over 2 days in a school in village in India. He was primary teacher and ran two teen-run only coding events for EU Code Week. To take concrete steps in that direction, they run girls-only sessions at Workshop4Me.
Madhumalti has been an advocate of Diversity and is recognised as an extraordinary expatriate in Luxembourg. She is passionate about bringing girls and women in technology. While working in IBM India for 11 years, she has been chairing initiatives like Women and Technology (K-12), Core team member of EXITE (Exploring Interest in Technology and Engineering) for schoolgirls, facilitating Taking the Stage programme for Women professionals in IBM and other such initiatives.