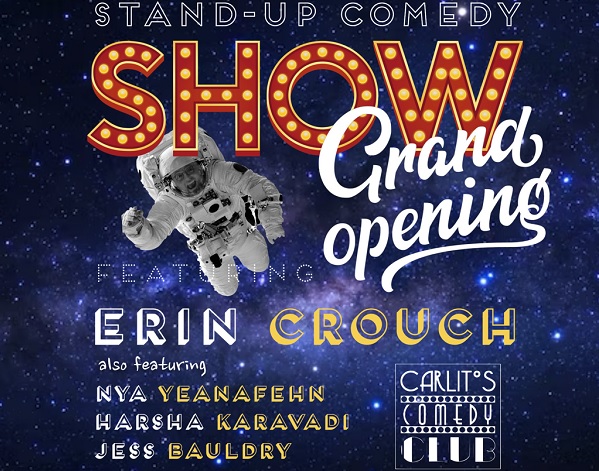 Carlitos' Comedy Club will be holding its Grand Opening at 65 Rue du Fort Neipperg (Luxembourg-Gare) on Friday 1 September 2023 from 21:00 - 22:30, and will feature a line-up of what are described as "some of Europe's best stand-up comedians".
Described as "Luxembourg's first dedicated comedy club", Carlitos himself is originally from Phoenix, Arizona; he is Mexican and Italian and he currently lives in Luxembourg where he organises his own stand-up comedy show. On stage, Carlitos has a penchant for the verboten as he deals with the many confusing aspects of his utterly multicultural audience. A crowdwork specialist, he will simultaneously make you uncomfortable and laugh at the same time. Carlitos has performed around Europe including Amsterdam, Utrecht, Cologne, Frankfurt, Paris, Strasbourg, Brussels and Prague.
Programme Line-up
ERIN CROUCH (US, DE) is a US comedian who lives in Germany because she craves disapproval. A shortlist candidate for the 2023 Funny Women competition, Erin has hosted and featured at Utrecht International Comedy Festival, Boom Chicago Amsterdam Festival and headlined at the Summer Comedy Marathon Festival in North Macedonia. Her comedy is described as "neither dirty nor clean but a secret third thing."
NYA YEANAFEHN (US) is a multi-faceted performer based in New York City, known for his interesting and funny perspectives on life, love and everything else. He has performed all over Europe and continues to. In addition to being a stand-up comedian, he is also an actor, having appeared in numerous films, television shows and stage productions.
HARSHA KARAVADI (IN, LU) is an Indian-born, Luxembourg-based comic who is a regular on the open-mic circuit. Known for his caustic wit and sardonic humour, his material is rooted in the irony of everyday things and centred around the clusterfu*k called life. Besides moonlighting as a comedian telling quirky stories, he works a regular day job as a supply chain professional figuring out answers to complex questions like "what do you exactly do at work?"
JESS BAULDRY (GB, LU) is a British comedian who ghosted a guy so badly, she ended up moving to Luxembourg. There she has learned the art of quitting work and living with the consequences of that fierce but ultimately foolish decision. Jess co-founded Festrogen in 2022 to build a more inclusive comedy scene in Luxembourg. She is part of the organisational committee behind Frilly Curtains, a women-run comedy club established in Luxembourg in 2023. She has performed two shows at the Edinburgh Fringe.
Tickets cost €25 (on the door) or €20 (early-bird) online.
For details, see https://www.carlitoscomedy.club/