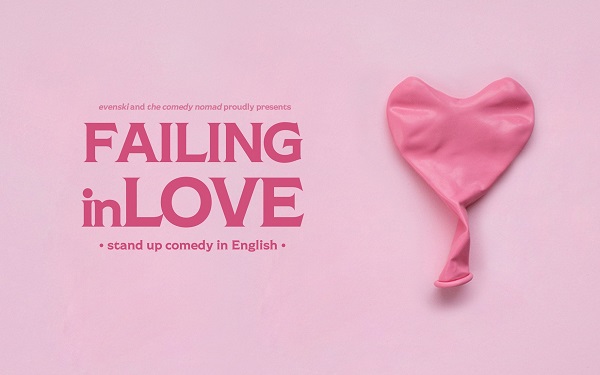 Evenski and the Comedy Nomad are organising an English-language comedy show called "Failing in Love" at Centre Culturel Altrimenti in Luxembourg-Hollerich on Saturday 24 June 2023 at 19:00 and 21:30.
Failing in Love is a stand-up comedy show in English about failures in relationships and love with comedians from across Europe (and beyond). The lineup of award-winning internatinal comedians will feature Argentinian Irene Meneguzzi, Australian-born Chris Darwa and English Trevor Lock.
Irene Meneguzzi is a Barcelona-based stand-up comedian from Argentina, semi-finalist at the 2022 Funny Women Competition. She started her comedy career in 2019 and soon became popular in the Spanish and English comedy scenes. She has already performed in multiple cities, including Buenos Aires, Madrid, Prague, and London. She has been featured on Spanish and Romanian national television, and she was one of the opening acts at the XII International Stand-Up Comedy Festival in Belgrade in October 2022.
Chris Darwa, an Australian-born comedian, has completed his first solo tour around Europe, and has performed at the Edinburgh Fringe Festival. He has also toured Europe with Tony Law, performed in the UK, America and his native Australia, all the while being a regular on the Swiss comedy scene.
Trevor Lock has starred in the three seasons of BAFTA-nominated and British Comedy Award-winning Star Storie and in both seasons of BBC's TMWRNJ with Lee and Herring and the Steve Coogan produced Brain Candy. He has toured with Stewart Lee, Russell Brand and Paul Foot. He has also addressed The Oxford Union on The Meaning of Life and he runs an ongoing mental health and creativity workshop called Reality Games.
The three comedians will entertain their audience with tales from their lives, romantic adventures, dating successes (but mostly failures) and more.
Earlybird tickets cost €27.50, whilst regular tickets purchased online cost €30.00. Tickets around €23 are available for students, and there are group discounts available.Tickets are available online at https://www.eventbrite.co.uk/e/failing-in-love-luxembourg-stand-up-comedy-in-english-tickets.