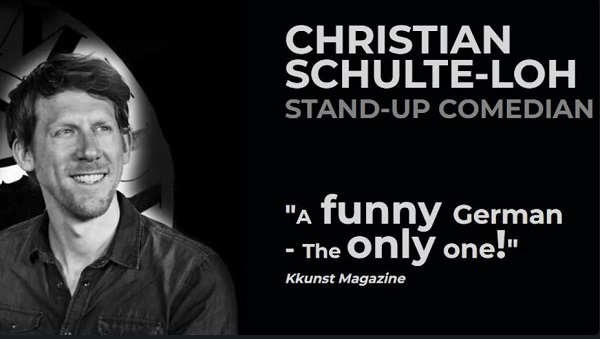 The next edition of the Luxembourg Comedy Showcase in English will take place on Thursday 20 April 2023 at 20:00 at the Marionnette (15 Rue de Strasbourg) in Luxembourg-Gare.
Organised by Luxembourg Comedy, Joe Eagan Comedy Productions and InternationalComedians.com, the event will see headliner Christian Schulte-Loh (Germany taking the stage for this English-language show, hosted by MC Joe Eagan. The support acts are Lill' Aïda (France) and Alex Martin (USA).

Christian Schulte-Loh is an international stand-up act from Germany who has performed in clubs and at festivals in more than 30 countries. He regularly performs at clubs in the UK, Germany and elsewhere on the European circuit. He has been called "a funny German – the only one!" (KKUNST MAGAZINE, Belgium), and THE SPECTATOR wrote about him: "one of the most subversive acts ever". Christian performs in English and German, and has also gigged in Spanish. He has toured the world, often appears on German television and regularly performs at the Edinburgh Fringe Festival.

In April 2017 he published his first book in Germany. "Zum Lachen auf die Insel" (Have a laugh on the Island) is about his adventures as a German comedian in Britain. His UK TV and Radio credits include Paul Hollywood's Big Continental Road Trip (BBC2), The One Show (BBC1) and Britain vs The World (BBC Radio 4).

Attendees may arrive at the venue earlier to have some pizza beforehand. To reserve a table to eat, call tel.: 481-217. If eating, it is recommended to book a table for 19:15 at the latest to get food orders in before the show.
Tickets cost €20 / €37 for two online at: https://billetto.eu/en/e/thurs-april-20-special-luxembourg-comedy-showcase-in-english-with-christian-schulte-loh-ger-tickets-821256. Tickets at the door cost €25 per person.