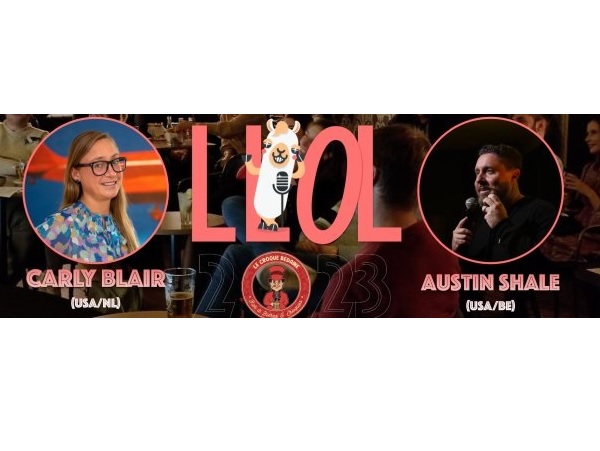 On Saturday 7 January 2023, the first LLOL Stand-up Comedy Night of 2023 is being held at Le Croque Bedaine (139 Ave du Bois, Luxembourg-Limpertsberg) at 20:00.
CARLY BLAIR: is a not-your-typical-American American who has been trying to shove her square peg-shaped self into Amsterdam's round hole with admirable, or perhaps foolish, persistence since 2009. When she is not embarrassing her mother and menagerie of ex-lovers with her comedy, she works as a freelance writer, hangs out with her dog and exercises frenetically so as to minimise the chance of having a double chin in her gig photos.
AUSTIN SHALE: is a highly entertaining comedian and MC new to the BeNeLux scene coming all the way from San Diego California. He brings his relaxed storytelling style of comedy to the stage to enchant, amuse and entertain audiences with some "true" stories that will have you laughing, chuckling and giggling the night away.
CARLITOS (your host): Originally from Phoenix, Arizona, Carlitos is Mexican and Italian, and he currently lives in Luxembourg where he organises his own stand-up comedy show. On stage, Carlitos has a penchant for the verboten as he deals with the many confusing aspects of his utterly multicultural identity. A crowdwork specialist, he will simultaneously make you uncomfortable and laugh at the same time. Carlitos has performed around Europe including Amsterdam, Utrecht, Cologne, Frankfurt, Osnabrück, Paris, Strasbourg and Prague.
Tickets cost €12 online (see https://www.tickettailor.com/events/llol/825354); €15 at the door