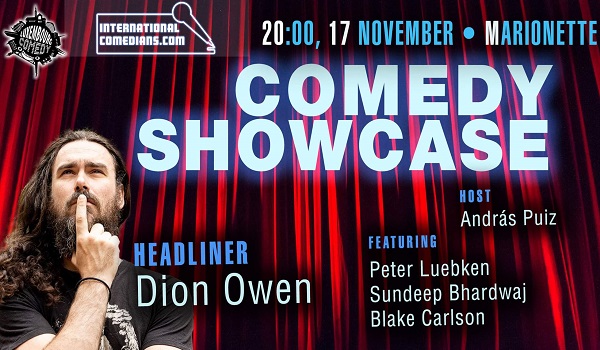 Luxembourg Comedy, Joe Eagan Comedy Productions and InternationalComedians.com have announced that the next edition of their English-language comedy showcase will take place on Thursday 17 November 2022 at 20:00 at the Marionnette (15 Rue de Strasbourg) in Luxembourg-Gare.
Headliner Dion Owen (Canada) will take the stage for this English-language show, hosted by MC Ándras Puiz (Hungary). The support acts are Peter Luebken (Germany), Sundeep Bhardwaj (India) and Blake Carlson (US).
Dion Owen is a professional comedian and an avid cyclist originally from a small town in British Columbia, Canada. He now calls Montreal his home. He recently filmed a TV Gala at the Winnipeg Comedy Festival. He has toured across Canada and in 2019-2020 completed his largest cycle/stand-up tour consisting of 200 shows, in ten countries over seven months. All of which started with a sold-out run of his solo show Cyclopath at the 2019 Edinburgh Fringe. After another successful Fringe this past August, Dion Owen is back on tour!
The show starts at 20:00, but attendees may arrive at the venue earlier to eat some pizza beforehand. To reserve a table to eat, call tel.: 481-217. If eating, it is recommended to book a table for 19:15 at the latest to get food orders in before the show.
Earlybird tickets cost €18 (only 25 available), whilst regular tickets purchased in advance cost €20; a two-person special ticket costs €37. Tickets are available online at: https://billetto.eu/en/e/thurs-nov-17-luxembourg-comedy-showcase-in-english-tickets-735923. Tickets at the door cost €25 per person.