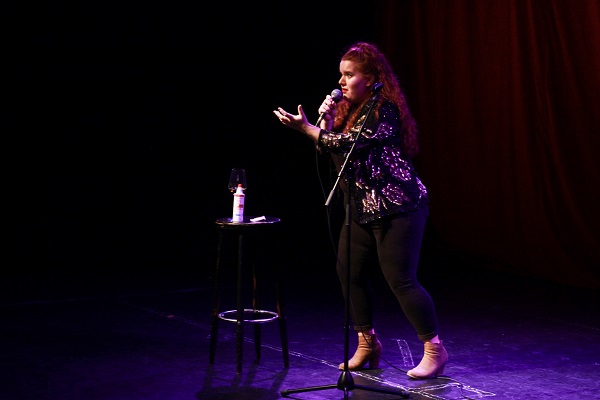 Mari Volar, one of the five female comedians behind Festrogen; Credit: Lu Noboa
Five female comedians have joined forces to organise a new women-centric, English-language comedy festival in Luxembourg: Festrogen 2022.
With women representing only a small percentage of comedians in Europe and the United States (US), Jess Bauldry, Sharon VS, Erin Crouch, Mari Volar and Anshita Koul decided to be the change they wanted to see. The result is two days of workshops and three shows, taking place from 6 to 8 May 2022, aimed at encouraging more women to get into comedy.
Hailing from the United Kingdom (UK), Estonia, India and the US, the English-speaking comedian instructors are experienced producers and performers with solo shows and festivals under their belts.
Drawing from years of comedy, the Festrogen workshops, which will take place at Die Bibliothek CID | Fraen an Gender (women's library at 14 Rue Beck, 1222 Luxembourg), are designed to take participants from writing their own material for the first time to performing on a stage that same day. Participants who have written material already will benefit from a workshop on tightening punchlines and refining jokes. Topics related to producing shows and mics will also be covered, as well as performance techniques and personal branding for comedy.
Each day will end with a professional comedy performance at a Luxembourg venue. The performances range from the two-woman work critique "50 Ways to Leave Your Employer" on Friday 6 May and "Bestrogen of Festrogen" on Saturday 7 May (both at Le Croque Bedaine) to the humorous warning tale of the perils of patriarchy "The Clitoris Act" on Sunday 8 May 2022 (at Théâtre Le 10).
Speaking to Chronicle.lu, one of the organisers, Mari Volar, a Cologne-based comedian, musician and event producer from Estonia, shared the inspiration behind Festrogen (the name being a pun combining the words "festival" and "oestrogen"), its objectives and her advice for women looking to enter the world of stand-up comedy.
Mari, who founded the Clit Comedy Club collective in Cologne (Germany) during the COVID-19 pandemic, explained that the stand-up comedy scene remains rather male-dominated. "It can be intimidating to go into a room full of men", she said. The aim of Festrogen then is to "give women the tools to enter stand-up", offering them valuable information such as how jokes are structured, comedic timing and how to "tap into their potential and confidence". As such, the festival is centred on the workshops, which are open to both women who have never tried stand-up before and those who already have some experience in this field. Participants will then have the opportunity to put what they have learned into practice during a "low stakes open mic" on the Saturday evening.
She noted that the workshops are not just for women who wish to pursue a career in stand-up, rather they are useful for anyone with an "interest in comedy, being fun and engaging" and who would like to improve their public speaking skills.
In the evening shows, professional female comedians will perform in front of larger audiences (not just women), with Mari and her comedy partner Anshita Koul set to present their theatrical comedy show "The Clitoris Act" for the first time outside Germany. "It is very exciting to go international with that", she said, adding that: "The Clitoris Act is very openly feminist and it talks about body image and what it feels like to take up space in the world, as a woman who is not perceived as aesthetically beautiful, for example, so it can make some people uncomfortable, but in a funny way".
The main festival event will be the comedy gala, headlined by Germany-based US comedian Erin Crouch and featuring seven local and international female comedians on stage, on the evening of Saturday 7 May 2022.
Regarding the challenges facing women either trying to get involved or already involved in stand-up, Mari explained that getting started in general is "tough because nobody knows you and nobody knows your comedic voice yet". There was the added challenge of performing English-language comedy in countries where English was not the main language, such as Luxembourg or Germany. Mari also noted that the world of stand-up remained dominated by cisgender men,"so for anybody of any sort of marginalised background […] it is still tough".
"I'm very often the only woman on a lineup", she continued. "Everybody has their own hurdles and just having the confidence to be like 'Well, I need to ask for what I want and I need to know my own worth'. It's getting there but there is still a long way to go".
As for her advice for women who are interested in but perhaps reluctant to perform stand-up comedy, Mari invited them to find a low-stakes place, such as the Festrogen workshops, to try it out and see if they like it. Regarding the workshops, she added: "It really is a perfect place to start: the stakes are very low, nobody is going to judge and there is absolutely nothing to lose by spending two days with a bunch of really cool and really funny women".
Tickets for the Festrogen workshops are available at: fienta.com/festrogen-2022-joke-writing. Further information, including registration details, about the comedy shows is available at: http://clitcomedyclub.com/festrogen/festrogen-shows/
Current festival partners include the Luxembourg venues (CID women's library, Le Croque Bedaine and Théâtre Le 10), KnowThyBrand and LLOL - Luxembourg Laughing Out Loud. Anyone interested in becoming a partner is invited to contact the Festrogen team via email: festrogenforever@gmail.com