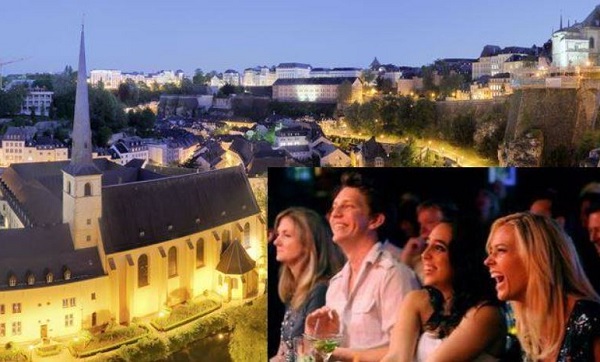 Credit: Lux Comedy
Luxembourg Comedy and InternationalComedians.com have announced that their English-language comedy showcase is returning this Saturday 18 September 2021, with two show times to choose from: the first at 19:00, the second at 21:20; the show will take place at Restaurant-Cafe Marionnette in Luxembourg-Gare (15 Rue de Strasbourg, L-2561).
Headline act Tamer Katten (United States) is a powerhouse of laughs and wit who has headlined every major comedy club in Los Angeles, New York City, Chicago and London.
He fell in love during the pandemic with a Swedish woman on Bumble, flew to meet her in Barcelona, was immediately put into a Spanish prison where he spent the night before being sent back to the US the next day. A week later, they met in Gibraltar where he directly asked her to marry him. Their one-year anniversary was just last month and they now live in Lisbon, Portugal where Tamer finds inspiration for an animated series he co-created and produced called "Tantrum Jesus" - set for release this autumn on a major TV network that cannot be named just yet.
Tamer's international gigs include tours for the United Nations troops in Afghanistan, performing at the American University in Cairo and the Edinburgh Fringe where he received numerous 4-star reviews from international press, immediately followed by being featured on Seth Rogen's Hilarity for Charity event with Todd Glass and Hannibal Buress. He has TV and radio credits on BBC and SkyTV in the United Kingdom as well as in the US on Fox, HULU, Netflix, Amazon and truTV.
Support acts Lady Catherine (UK), Benny J (Australia), Peter Luebken (Germany) and local comedian Shay M will warm up the audience before Tamer takes the stage.
MC host Joe Eagan (Canada) will also be present to guide spectators through the evening.
Guests are encouraged to buy a group of two, three or four tickets and then reserve a table to eat via tel.: 481-217 (book a table time and arrive by 18:15 to get food orders in before the first show or at around 21:00 for those wishing to eat before the 21:20 show).
Advance regular tickets cost €19 (max. four per order) and can be ordered at https://billetto.eu/en/e/tickets-sat-sept-18-luxembourg-comedy-showcase-tickets-566614; tickets at the door cost €25.
Only 60 total seats are available for each show. This is a CovidCheck event.
The next showcase is scheduled to take place on Saturday 23 October 2021, with headliner Vicor Pãtrãşcan coming over from Romania.