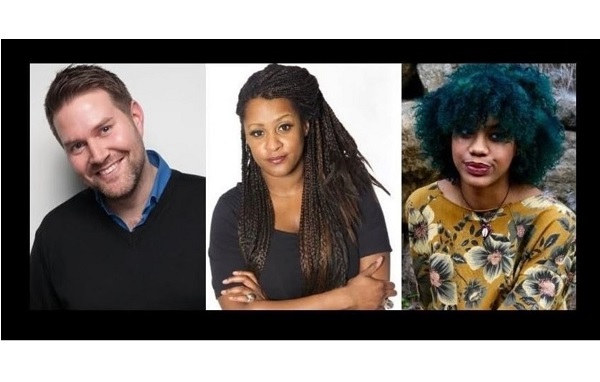 The Grand Season Premiere of Luxembourg Comedy's monthly English-language Showcase show will take place on Saturday 29 February 2020 at 21:15 at the Marionnette (15 rue de Strasbourg) in Luxembourg-Gare.
Each month, as part of the Luxembourg Comedy Showcase, two different professional stand-up comedians perform in English in Luxembourg. The event is hosted by Lux Comedy, Joe Eagan and InternationalComedians.com.
Performing at the Grand Season Premiere will be Dana Alexander (Canada) and Kemah Bob (USA), accompanied by Master of Ceremonies Joe Eagan (Canada).
Dana Alexander draws her material from raw life experience with an original and hilarious outlook. She began her comedy career at the age of 18 in Canada. Before long, she began touring nationally with Yuk Yuk's Comedy Clubs, completed five television galas and several radio spots for major stations. In 2011, Dana moved to the UK where she premiered her solo hour at the Edinburgh Festival for which she received rave reviews and nominations including "Best Comic" and "Best International Act" from Chortle and Black Comedy Awards. It was not long before she then featured on British television on shows like "Russell Howard's Good News", "Edinburgh Comedy Fest" and "The Culture Show". Her solo comedy special also aired in Canada's popular Stand-up show "Comedy Now" and she has been named one of the Top 10 Comedians for three consecutive years by NOW Magazine in Canada.
Kemah Bob's material focuses on black cultural identity, mental health, sexuality and gender, as well as using comedy as a tool for enlightenment and empowerment. Kemah also runs a monthly showcase at the Femmes of Colour Comedy Club in London. She is a regular guest on the "Guilty Feminist" podcast and has performed to sold-out audiences at their live shows at the London Palladium. On the small screen, Kemah has appeared on BBC Three and most recently wrote and appeared in sketches for Deborah Frances-White's pilot for Channel 4, "Next Week's News". She can also be heard on "Grown-Up Land" and "Global Pillage".
Doors open at 19:30 for eating guests and at 20:00 for non-eating guests. The show lasts until approximately 23:00 and includes one break.
Eating guests can reserve a table via tel.: 481-217 (book a table time and arrive by 20:15 to get food orders in before the show).
Tickets cost €16 (40 promo tickets) or €19 (advance tickets) online or €25 at the door. Tickets are available from https://billetto.eu/en/e/tickets-luxembourg-comedy-showcase-feb-29-tickets-408774.