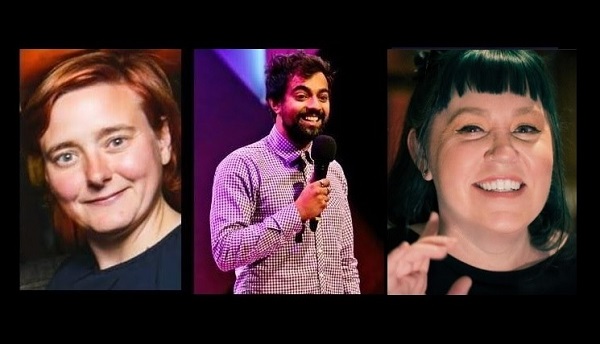 The next English-language Luxembourg Comedy Showcase will take place on Saturday 14 December 2019 at 21:15 at the Marionnette (15 Rue de Strasbourg, Luxembourg-Gare).
The popular Luxembourg Comedy Showcase, organised by Joe Eagan and InternationalComedians.com, is returning with this Christmas special, featuring stand-up comedy acts performing in English.
This show welcomes headline acts Rahul Kohli (UK) and Kendra Borgen (USA), accompanied by Master of Ceremonies (MC) Erin Crouch (USA).
Rahul Kohli​ has fast become one of the most captivating acts on the circuit. As one of the few Asians who grew up in the far north of England (Newcastle Upon Tyne), he has been blessed with a view of the world that combines "superb political comedy" with surreal stories. His Edinburgh Fringe shows have gained critical acclaim from the likes of BBC Radio 4 and the Huffington Post's Pick of the Fringe. Rahul is also an award winning comedian, winning the NATYS, formerly the Hackney New Empire of the Year Award.
Born into a Reagan-era hunter-gatherer society in Alaska, Kendra Borgen started playing saxophone at age 8 inspired by the musical stylings of Lisa Simpson. After studying music in Oregon, she left the US in 2004 in search of a better life and bought a one-way ticket to Amsterdam. In the need to pay rent, she started guiding people around the city, and now performs comedy by night.
Meanwhile, MC Erin Crouch, originally from Alaska but currently living in Tacoma and southern Germany, has been on the All Jane Comedy Festival, Chicago Women's Funny Festival and, in April of 2019, Alaska's first comedy festival, Alaska B4U Die. She co-produced two monthly shows outside Seattle in 2018 and 2019 and currently produces and hosts the Blarney Stone open mic and showcase in Landstuhl, Germany. She has also hosted and featured in Germany, Finland and Estonia.
Doors open from 19:30 for those dining and from 20:00 for those just coming to see the show.
Eating guests can reserve a table via tel.: 481-217 (book a table time and arrive by 20:15 to get food orders in before the show).
Promo tickets cost €16 online (40 tickets available). Normal tickets cost €19 online or €25 at the door. Tickets are available in advance from https://billetto.eu/en/e/tickets-luxembourg-comedy-showcase-sat-dec-14-tickets-397539. For group rates (two people or more), email: lux@internationalcomedians.com.
The show will start at 21:15 and last until 23:00 approximately, including one break.