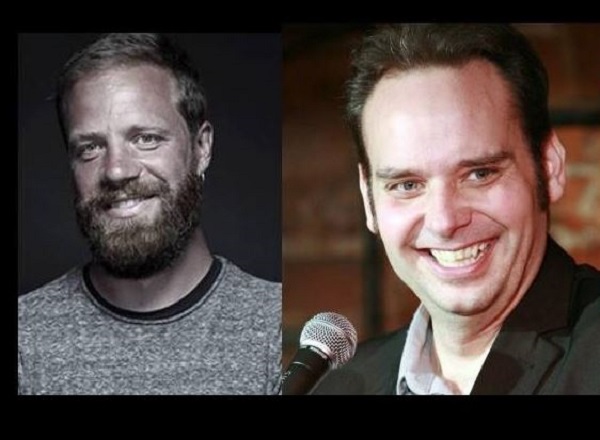 Following its Luxembourg Comedy Festival on 23-25 November, InternationalComedians.com will be organising a Luxembourg English Comedy Showcase Xmas Special on Thursday 13 December 2018 at the Marionnette (15 rue Strasbourg, Luxembourg-ville) at 20:15.
This show welcomes headline acts David Tsonos (Canada) and Micheal Jäger (Germany), in addition to an Xmas Powerpoint show special by Joe Eagan (Canada).
The entire show is in English and is on a thursday, not a Saturday as the Pro Showcases normally are.
Tickets on the door cost €25; advance tickets are €20 per person (including fees) from https://billetto.eu/en/e/xmas-special-luxembourg-english-comedy-showcase-thurs-dec-13-tickets-322839
For groups of 2 or more, email: lux@internationalcomedians.com for a promo group rate.
Guests dining at the venue can reserve a table by calling tel: 481217 (you must arrive by 20:15 to get food orders in before the show). Doors open at 19:00 for diners, and at 19:30 for other guests.
David Tsonos (Canada) - David has been touring Canada since 1999, from one end to the other several times, and now doing shows in the USA and the U.K. When not touring David has acted in commercials and TV shows. He also has found time to Write and Direct his own independent films.
Michael Jäger (Germany) was one of the main stars and crowd favourite of the recent Luxembourg Comedy Festival and here he will treat us all to his extended set! Not to miss! He is known as one of the fastest rising stars on continental Europe and is taking comedy clubs throughout the region by storm.
Joe Eagan (Canada) Xmas Special Powerpoint show – Yes he performs it max once per year, and here is your chance to catch it! It's a show about his unique perspective about life as a Canadian in Europe, culture clashes, stereotypes about various nationalities and lots of other fun things, his PowerPoint comedy show has music, pictures and comedy - a maple syrup mix of observational humour you can't miss!
To stay updated about Showcase, Open Mic & other shows happening in Luxembourg, see https://www.facebook.com/luxembourgcomedy/