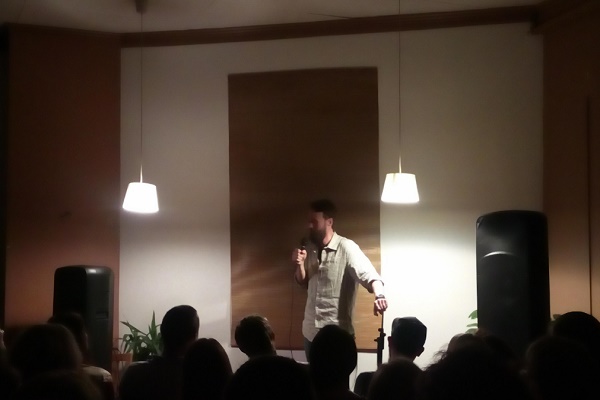 Paul Myrehaug; Credit: Jazmin Campbell
The Brasserie Marionnette was filled with laughter yesterday evening at the last Luxembourg English Comedy Showcase before the summer.
Hosted once again by Canadian stand-up comedian Joe Eagan, last night's show attracted a full house to the performances by British comedian Thomas Smith and Canadian headliner Paul Myrehaug as well as a surprise local act hailing from Lisbon, Portugal but now living in Luxembourg.
MC Host Joe Eagan encouraged audience participation right from the beginning of the show, playing games with those in the front row who had the chance to win two free beers or some Hungarian Forints left over from his recent trip to Budapest- where he almost missed his flight back to Luxembourg for this show!
Thomas Smith, a British stand-up comedian raised in Antwerp in Belgium, followed on from Joe, joking about life with children, the "art" of giving birth and the most- and least- pleasant signs of ageing. Having started his career in 2000 as the finalist of Humo's Comedy Cup, Thomas recently toured with his show "Chaos" to sold-out theatres and got 5 star reviews across mainland Europe.
Paul Myrehaug, born and raised in Alberta and now living in London, drew in the audience immediately with his charisma and unique sense of humour- making them laugh at things they normally shouldn't, from testicular cancer screenings and first sexual encounters to applying for fake jobs in Victoria Secret and beard-growing as a mid-life crisis. Paul tours internationally and has performed for hundreds of thousands of people live and millions of people on television.
A great night was had by all and the audience will surely be looking forward to future comedy shows after the summer break as well as the Luxembourg Comedy Festival 2018 planned for 23-25 November.