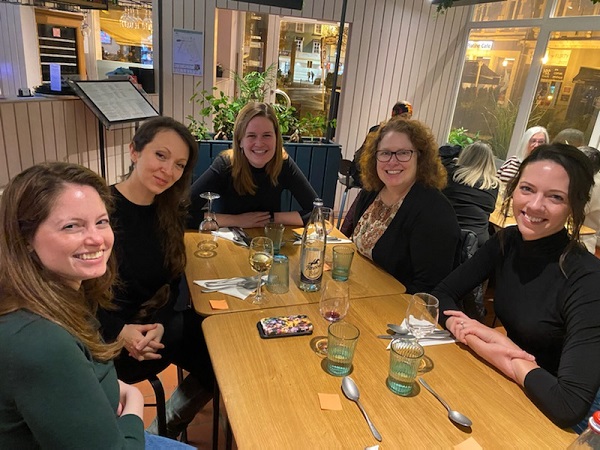 AWCL Thanksgiving event 2022;
Founded in 1959, the American Women's Club of Luxembourg (AWCL) celebrated its 60th anniversary just before the COVID-19 pandemic.
Chronicle.lu reached out to Brandy Bishop, AWCL President, looking back on its activities in 2022 and looking ahead to 2023, examining AWCL's mission and whether/how this has evolved over the years.
Chronicle.lu: What impact (if any) did eased COVID-19 restrictions in Luxembourg have on AWCL event organisation this past year? Did you opt for in-person, virtual or hybrid events, or a mix of these formats?
Brandy Bishop, AWCL: We have always had a mix of virtual and in-person activities to accommodate the needs of our members, so during the highest restrictions, we were able to transition to only virtual events. But with the easing of restrictions, we were able to reopen our clubhouse, and so we have seen a significant and welcome increase of in-person events.
Chronicle.lu: Did you find that your members preferred a particular format or type of event? And did ease restrictions impact AWCL membership numbers?
Brandy Bishop, AWCL: Our clubhouse has always served as an important gathering place, and our members have been very happy to come together again in person. With the number of women relocating to Luxembourg increasing, we have recovered our pre-covid membership numbers.
Chronicle.lu: What were some of the highlights at AWCL in 2022?
Brandy Bishop, AWCL: With the return to more in-person events, it has been a year full of many highlights starting with the club's participation in the Memorial Day wreath-laying ceremony at the American Cemetery. Members and their families really enjoyed playing in the cornhole tournament at the spring picnic, as well as our kickball tournament at the fall picnic. The "Members+1 Dinners" throughout the year are always popular for an evening out with current and new friends. People had a great time at our epic Oktoberfest party, while The Spooky Halloween Party was a hoot for members' kids. As always, the members-only Thanksgiving meal was an epicurean delight. Last year, we also organised a special tour of the Chamber of Deputies [Luxembourg's parliament], as well as added an evening book club to allow working members to participate. But the best highlight will always be supporting our initiative, Gifts For Kids, to provide gifts to disadvantaged children. Last year, we were proud to have delivered gifts to over 1,200 disadvantaged boys and girls in Luxembourg for the holidays, and our members happily delivered the gifts personally to Foyers all over the country.
Chronicle.lu: What does 2023 have in store for AWCL and its members? Approximately how many events do you plan to organise this year?
Brandy Bishop, AWCL: We will continue our mission of offering a wide range of weekly activities and monthly events - about 30 regular events each month in addition to our special events, to support our members who represent over 25+ nationalities. Our next Welcome Coffee for prospective or new members will be on Saturday 28 January at 10:00 and we are eager to meet new faces.
More information can be found online at www.awclux.com.