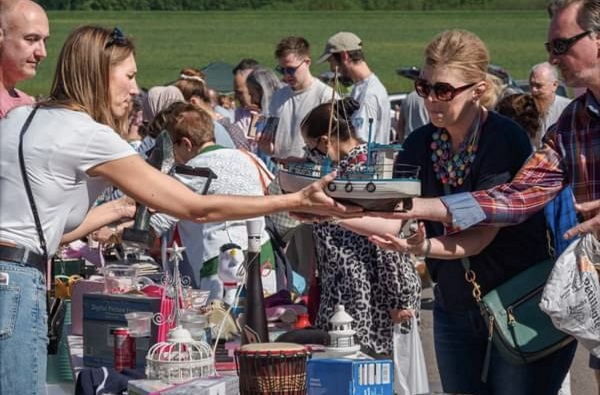 BLC Car Boot Sale 2022; Credit: Ian Sanderson / Dalboyne
2022 has almost come to a close and many organisations in both the business and social communities are looking ahead to next year; we asked the British Ladies Club here in the Grand Duchy to reflect on the past year and tell us what they are planning for the year ahead.
2022 has been an exciting and active year in the BLC's calendar, particularly when compared to a highly regulated and COVID-struck 2021. Numerous fund-raising and support activities took place including the annual Car Boot sale which attracted hundreds of visitors and raised a healthy sum for BLC charities. BLC Honorary Vice-President, Cynthia Albrecht-Lelliott, ran her annual Macmillan Cancer Support coffee morning and raised a large sum for the charity. Dress For Success was delighted with the items of makeup purchased in support of their Work-Readiness programme, and the weekly coffee and play mornings held to support Ukrainian refugees and their families throughout the year were much appreciated. "It's always immensely rewarding helping some of the many organisations that rely on groups like ours," said Dawn Butler, BLC Editor and Acting Chair.
2022 was also packed full of children's events, many of which sold out instantly; from the Spring Easter Egg Hunt and October Hallowe'en Scavenge to the annual Children's Christmas Party. Add to that the weekly Pipsqueaks playtime events and ZigZag, the children's programme did not disappoint this year.
A multitude of social events took place as a means of meeting new friends and bringing existing friends together. Monthly cocktail evenings, coffee mornings, newcomers events, lunches and dinners were held and the more active enjoyed hikes, walks and tennis. While the death of Queen Elizabeth II in September was a cause of great sadness, the club welcomed a new era under King Charles III. And what better way to end the year, than with the opening of an exhibition at the City Museum on 22 December...
The exhibition entitled "Associative Life in Luxembourg since the 19th Century " will run until 16 March. The BLC has been allocated an entire room in which various installations and objects are exhibited, depicting the club's activities, mission and history. "This is such an honour," explained Dawn Butler. "We were one of three clubs selected from hundreds, and this underlines the value that we bring to the community."
There is, perhaps, one fly in the ointment - the club is urgently seeking a volunteer to chair the group into the future. It has been attracting members for more than 50 years and with a dynamic committee in place, it is hoping to see through the next 50 years in style. Any volunteers? Please contact committee@blc.lu with your application.