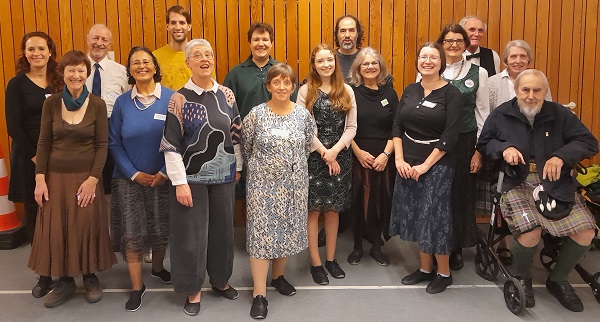 T'was the night before St Andrew's... On Tuesday evening, 29 November 2022, a select group of dancers from the Luxembourg Scottish Country Dance Club in the Grand Duchy gathered to celebrate Scotland's patron saint.
A programme of half a dozen dances, both traditional and modern, was thoroughly enjoy by all and culminated in everyone galloping through the "Gay Gordons".
The festivities continued as everyone joined in with drinks and all sorts of goodies at their usual venue. A great time at the "St Andrew's Celebration" was had by all!
The club had originally planned St Andrew's Dance on Friday 18 November 2022 in the elegant hall of the Steinmetz restaurant in Bech; this event was later replaced by Tuesday's event.
St Andrew's Day is celebrated each year in Scotland on 30 November: it is the feast day of Andrew the Apostle who introduced his brother, the Apostle Peter, to Jesus, the Messiah. He is also the patron saint of Tajikistan.
In Scotland, 30 November is Scotland's official national day (although it remains a normal working day; nevertheless, the University of St Andrews usually does not hold classes on that day) and marks the beginning of the traditional Advent period. The national festival dates back to the mid-11th century and is marked with a celebration of Scottish culture.
Scotland's flag, a white cross on a blue background, is called the Saltire or Saint Andrew's Cross.
St Andrew's Day is also viewed as the start of a season of Scottish winter festivals encompassing St Andrew's Day (30 November), Hogmanay (31 December, New Year's Eve) and Burns Night (25 January).