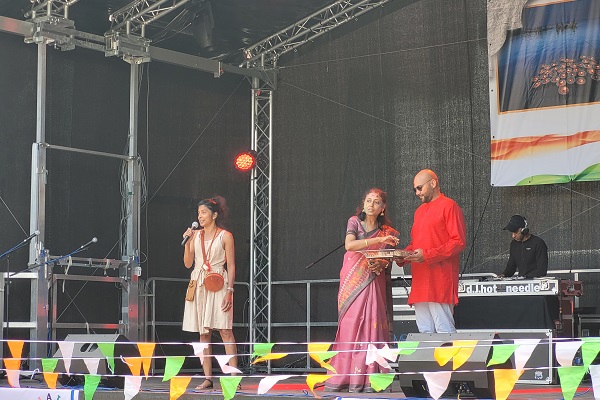 Daliah Scholl, municipal councillor for the City of Esch-sur-Alzette, pictured on stage with IAL's Sujatha Selvaraj; Credit: Jazmin Campbell
On Saturday afternoon, Indian Association Luxembourg (IAL) asbl held its first big open-air Holi celebration in Place de la Résistance in Esch-sur-Alzette.
Organised in collaboration with the City of Esch-sur-Alzette (Ville d'Esch-sur-Alzette) as part of the Nuit de la Culture (culture night), in the framework of the Esch2022 – European Capital of Culture programme, this open-air colour festival saw participants of all ages and nationalities smear each other with organic Holi colour powder, provided by IAL for the occasion, and dance along to a live DJ set, Dhol beats and other colourful musical performances, whilst enjoying some typical Indian snacks (samosas, chicken lollipops and Aloo Chana chickpea and potato curry) and drinks (Indian beer and mango juice).
Holi is an ancient Hindu festival, widely known as the Festival of Colours. It traditionally celebrates the arrival of spring. Following a digital Holi celebration in 2021, this was IAL's first outdoor Holi festival. Speaking to Chronicle.lu, the organisers said that they hoped to be able to make this an annual event.
Special guest Daliah Scholl, municipal councillor for the City of Esch-sur-Alzette, took the stage around 15:00 to wish everyone a fun and successful Holi celebration. She and IAL member Sujatha Selvaraj exchanged Holi colours.
Although the Holi festival came to an end around 17:00, festivities are set to resume later on Saturday evening with a Bollywood Night event (19:00-22:00), featuring performances by Jhalik Punjab Di Bhangra Group and a live Bollywood DJ set. Like the colourful festival this afternoon, entry is free to this public event.
IAL is a non-profit cultural organisation incorporated in 1991 whose mission is to enhance awareness of India's heritage in Luxembourg through various events organised throughout the year. Other big IAL events planned this year include an Indian Independence Day celebration - further details to follow.