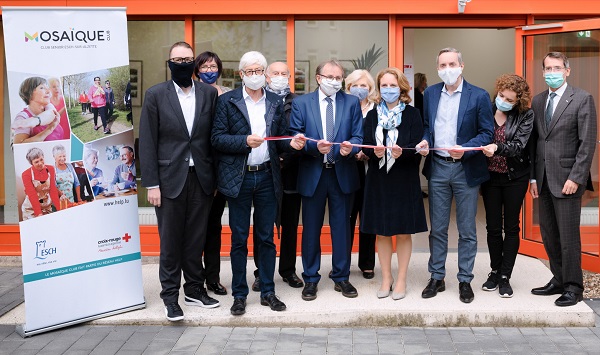 Inauguration of the club's new premises; Credit: Ville d'Esch-sur-Alzette
Yesterday, on the occasion of International Day of Older Persons, the Luxembourg Red Cross inaugurated the premises of the Club Senior Mosaique Club in Esch-sur-Alzette.
The inauguration took place in the presence of Corinne Cahen, Luxembourg's Minister of Family Affairs, Integration and the Greater Region, Georges Mischo, Mayor of the City of Esch-sur-Alzette, André Zwally, alderman of the City of Esch-sur-Alzette, and Michel Simonis, Director General of the Luxembourg Red Cross. The event was an occasion to present the development of the club's activities and its premises which facilitate the offer of various activities in an adapted and friendly environment for Esch's elderly residents.
Managed by the Luxembourg Red Cross, the Club Senior Mosaique Club has been operating since September 2017. The club serves as a place of exchange for older people in Esch-sur-Alzette.
"Since the opening of the Club, we have seen a steady increase in the number of people registered for activities, which we are very pleased with," said Michel Simonis, Director General of the Luxembourg Red Cross. "By working closely with the City of Esch-sur-Alzette and the Ministry of Family Affairs, we have been able to develop a leisure offer promoting active aging. We are now happy that the Club has its premises to promote the organisation of activities and become a dedicated and personalised place for Eschois residents over 50 years old".
To date, the Mosaique Club has established several partnerships with local associations and institutions and various initiatives aimed at senior citizens. Club manager Manuela Lorenzo explained: "The opening of these premises will allow us to organise activities there and to further anchor the Club Senior in the associative landscape of the City of Esch-sur-Alzette. We want the club's participants to appropriate it and bring it to life. Some areas will be devoted in particular to board games, reading, etc., as well as activities that are always conducive to exchanges to prevent and fight against the loneliness that the elderly sometimes suffer".
The Mosaique Club is one of the six Clubs Senior of the Help support network. Its vocation is to promote interculturality and diversity. This is why the activities offered are in a variety of languages ​​and at affordable prices to remove barriers to participation. The club offers a wide range of activities, including physical and relaxation activities, learning such as computers, visits and excursions and afternoon games.