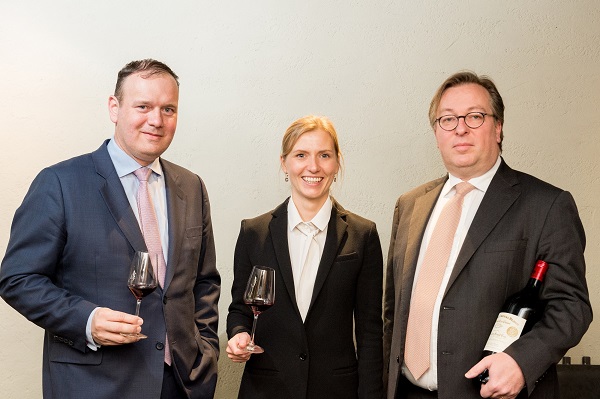 L-R: Christophe Lapierre, Chief Commercial Officer of Luxaviation Group; Anna Sipurzynska, Customer Relationship Manager of Luxaviation Fine Wines; Patrick Hansen, CEO of Luxaviation Group; Credit: Luxaviation Group
Luxaviation Group, one of the largest private aircraft operators worldwide headquartered in Luxembourg, has announced the official launch of Luxaviation Fine Wines, a new business line for the procuring, tasting and storing of the world's finest wines and spirits as a dedicated service to its selected club members.
Luxaviation Group today launched Luxaviation Fine Wines to provide clients access to the best vintages throughout the world and to exclusive tasting events for individuals who are already part of the group's clientele. The line will thus offer a limited number of clients a highly personalised approach to buying and collecting, guaranteeing the wine's origins and providing professional cellar management and storage. During a three-month test phase, the Group tested all phases of the procurement, client relations and sales process.
Luxaviation Group CEO Patrick Hansen commented: "Luxaviation Fine Wines is [further] proof of our teams' efforts to enhance our guests' experiences and provide them with access to exclusive goods in an effortless way. The longstanding relationships with experts in the industry provide us with access to the best wine. As a leading international operator, we have a responsibility to provide our clients with the very finest service and we take excellence extremely seriously across all aspects and offerings of the Group".
Luxaviation Fine Wines will provide premium wines and spirits on a global scale, sourced directly from top châteaux and domaines, alongside specialist consultancy from world-class trade professionals. The new offering will allow for privileged allocations of rare wines and spirits directly from the properties and new offers of established names of the industry as well as access to the wine talents of tomorrow.
Access to the Luxaviation Fine Wine Club will only be available to the regular clients of Luxaviation Group as well as a finite number of members and by invitation only.