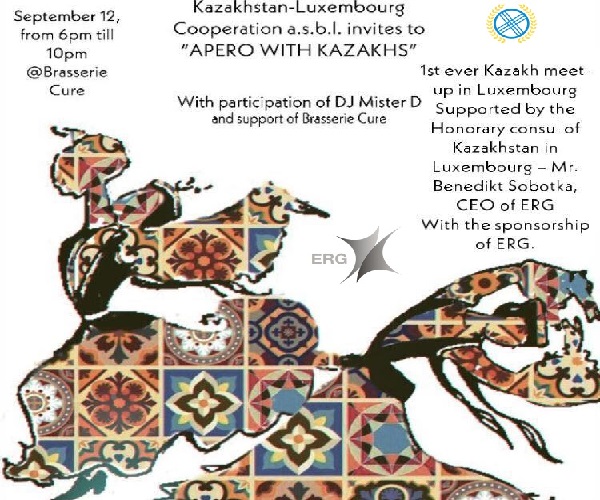 The Kazakhstan-Luxembourg Cooperation has announced a series of upcoming events, starting with an informal "Apero with Kazakhs" on Thursday 12 September 2019 at 18:00 at Brasserie Cure (3 Rue du Cure) in Luxembourg-ville.
That very first Kazakh meet-up in Luxembourg offers an opportunity for Kazakhs to meet each other, have fun, chat in an easy ambiance and network with friends. DJ Mister D will be providing musical entertainment, along with a surprise guest Kazakh DJ. In addition,the ambassador of Kazakhstan in Brussels, Aigul Kuspan, is expected to attend.
The event is supported by CEO of the Luxembourg-headquartered Eurasian Resources Group (ERG), Benedikt Sobotka, and the Honorary consul of Kazakhstan in Luxembourg, and is organised with the help of ERG.
This is a private event and space is limited. Participants will be offered two free drinks and snacks.
Established in January 2019, this young, non-profit organisation aims to introduce Kazakhstan culture to Luxembourg and vice versa. Other aims include the promotion of cultural and educational exchanges between the two countries and to bring together Kazakh and Kazakhstani people in Luxembourg. To achieve these aims, the association works in cooperation with the Kazakhstan National Fund "Otandastar", the Kazakhstan Embassy in Brussels, the Honorary Consulate of Kazakhstan in Luxembourg and the Luxembourg Chamber of Commerce.