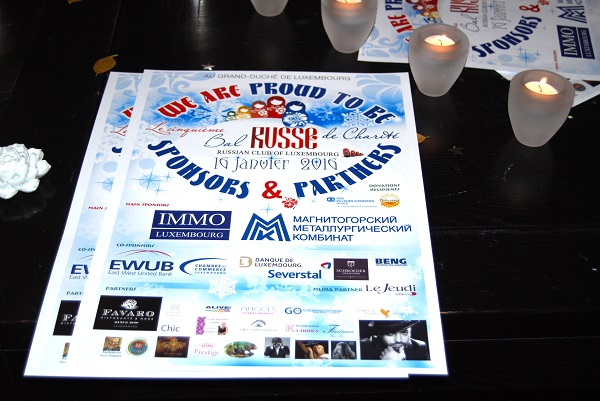 The 5th annual Russian Charity Ball will be held on 16 January 2016 at the Cercle Cité on Plce d'Armes in Luxembourg city centre, again bring together the beautiful world of Luxembourg and Russian economics, culture and society.
The Russian Charity Ball has become a magnificent event, unique and important to the cultural and social life of the Luxembourg and Russian communities in Luxembourg. The proceeds from the event will be doanted to charities; funds raised during the previous 4 Balls have amounted to the sum of €180,000.
The evening will begin at 19:00 with an aperitif in front of the doors of the Great Hall of the Cercle Cité which will open for a gourmet dinner designed and prepared by the chef Renato Favaro with over 23 years experience.
An Auction and a Raffle will be held, where guests will be able to compete for historical artifacts and luxury objects of art.
Throughout the evening, guests will be entertained, moderated by Irina Bezrukova and Gabiel Boisante. The show will include the Ukrainian singer Arina Domski and the Russian singer Rustam Shtar, with folk music by the "Russkaia Dusha" band and folk dance by the Kalinka Russian School. The Chic Planet Orchestra will will play background music during the Ball.
The funds raised will go towards disadvantaged and sick children in Russia, via SOS Villages d'Enfants Monde and the the Russian Podsolnukh Foundation ("Sunflower").
For further details, see http://ball.russki.lu.