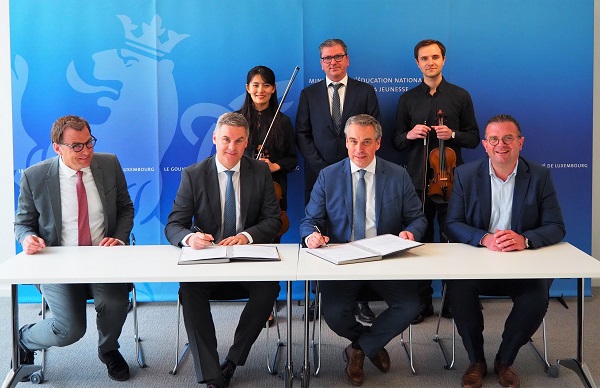 (L-R): Stephan Gehmacher, DG of the Philharmonie, Luxembourg Philharmonic Orchestra; Andreas Heinzmann, LPOA President; Minister Claude Meisch; Gilles Lacour, Musical Education; Credit: MENEJ
On Friday 22 April 2022, Luxembourg's Ministry of National Education, Children and Youth, together with the Luxembourg Philharmonic Orchestra Academy, announced that Minister Claude Meisch signed an agreement between the Ministry and the Luxembourg Philharmonic Orchestra Academy (LPOA) in order to promote and encourage the professionalisation of young student musicians wishing to become orchestral musicians.
According to the press release, the academy created by the Philharmonie Luxembourg offers excellent training for future musical talents over a period of two years. In June 2021, the first seven academicians were selected from 288 Luxembourg and international applications of an excellent level.
Minister Meisch considers this initiative to be of great value in the training of young musicians, which exceptionally completes the offer of Luxembourg's musical education.
The academy course offers complete immersion in the Luxembourg Philharmonic Orchestra, coaching and mentoring sessions for optimal preparation for orchestra competitions, workshops with specialists and a varied programme of chamber music.