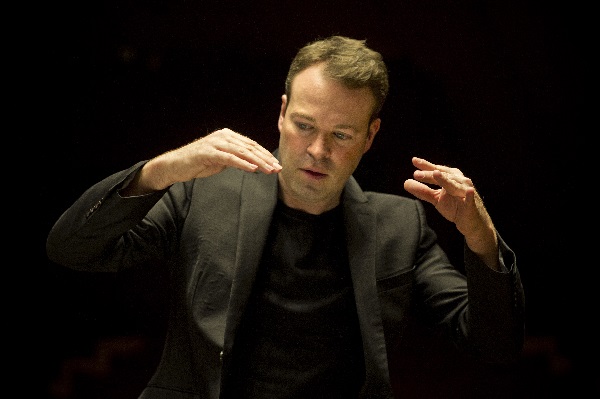 David Reiland; Credit: Jean-Baptiste Millot
The Orchestre National de Metz will play a syphonic concert, under the direction of David Reiland, on Saturday 16 March 2019 at CAPE Ettelbruck, from 20:00.
David Reiland, former conductor of the Luxembourg Chamber Orchestra, is returning to the Grand Duchy at the head of the Orchestre National de Metz. The soloist of this evening, Vitaly Starikov, laureate of the 2017 Epinal Piano Competition, will perform Beethoven's First Piano Concerto, a work still marked by the classical tradition, but with an enriched orchestral element.
Founded in 1976, it was in 2002 that the Orchestre National de Metz (former Orchestre National de Lorraine) acceded to the status of national orchestra in the region. Representative of the cultural life of Lorraine, addressing a repertoire of the most varied, classical works up to contemporary creations with a particular affection for French music, this orchestra has shined in its region, in France and abroad.
Succeeding Jacques Mercier, David Reiland has been the orchestra's musical and artistic director since September 2018. The Orchestre National de Metz has forged a long-standing partnership with the Épinal International Piano Competition, regularly taking part in the final rounds and supporting the young winners of the competition. This year, a three-concert tour will take the orchestra, with David Reiland and Vitaly Starikov, from Reims to Ettelbruck.
Born in Bastogne, Belgium, David Reiland has degrees in saxophone, conducting and composition at the Conservatoire de Bruxelles, the Conservatoire de Paris and the Mozarteum in Salzburg. He continued his studies with Dennis Russel Davies, who invited him to assist him on many projects with the Mozarteum Orchester, including the direction of the complete symphonies of Leonard Bernstein. David Reiland then completed his training with Pierre Boulez as an assistant at the Lucerne Festival. After winning first place in the conductor competition Melgaard Young Conductor, he was appointed assistant director of the Orchestra of the Age of Enlightenment for the 2011/12 season and collaborated with Sir Simon Rattle, Sir Mark Elder, Vladimir Jurowski, Frans Bruggen and Sir Roger Norrington, in the UK and abroad. In December 2009, he became First Guest Conductor of the United Instruments of Lucilin ensemble. In September 2012, he was appointed Artistic and Musical Director of the Luxembourg Chamber Orchestra, a position he held until 2017 when he became Artistic and Music Director of the Sinfonietta in Lausanne.
Vitaly Starikov, born in 1995 and winner of several international competitions, first trained at the Ural Conservatory in Yekaterinburg and is still studying at the Tchaikovsky Conservatory in Moscow.
Tickets for this concert cost €31, €15.50 for under 26s or €1.50 for Culture Pass holders. These can be puchased via tel.: (+352) 2681 2681, email: ticketie@cape.lu or online at www.cape.lu.