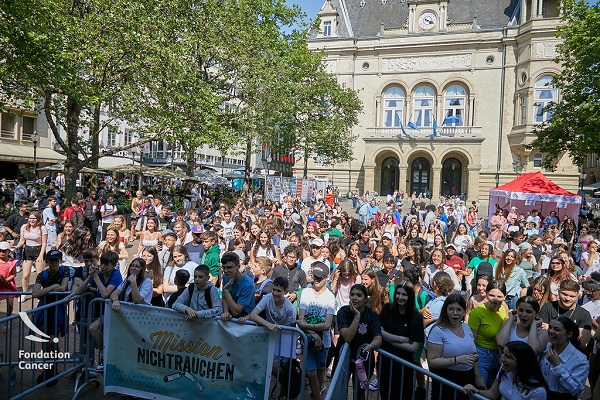 Credit: Fondation Cancer
Fondation Cancer has confirmed that 2,976 secondary school students took part in the 24th edition of its "Mission Nichtrauchen" anti-smoking competition in Luxembourg.
The goal of this competition is to encourage young people not to smoke. The closing party, which marks the high point of the competition and which had not taken place since 2019, took place in Place d'Armes in Luxembourg-Ville on Thursday 8 June 2023.
Fondation Cancer noted that it has been proven that the earlier smoking begins, the more difficult it is to quit. Therefore, the school environment, in particular secondary schools, provides fertile ground for carrying out preventive actions.
"The Fondation Cancer is committed to promoting a Tobacco-Free Generation by 2040, and raising awareness among our children from an early age is therefore essential," said Lucienne Thommes, Director of the Fondation Cancer.
This competition, specially designed for young people aged twelve to sixteen, took place in two well-defined phases. First, over a six-month period, classes were invited to take part in a monthly online smoking quiz, allowing them to accumulate points. Then, during the second phase, the classes having completed at least five of the six quizzes could take part in a rally organised in Luxembourg City. The rally offered the classes the opportunity to earn additional points by confirming their knowledge and participating in sports activities, all in order to climb on the podium of the "Mission Nichtrauchen" competition.
For the big closing party on 8 June, 67 classes gathered in the Place d'Armes in Luxembourg City, at the end of the rally organised in collaboration with the "Sports pour tous" classes of the City of Luxembourg. After the "Power Show" by Georges Christen and the introduction to Zumba by ZChicas, the awards ceremony rewarded the winners of the rally.
This year's winners were:
1st prize (€1,000): class 4GPSAF1 from the Lycée technique du Centre (teacher: Ms Sandra Urbing)
2nd prize (€500): class 7c3 from Lycée Josy Barthel Mamer (teacher: Ms Dominique Schmit)
3rd prize (€250): class 6e2 from Lycée de Garçons Esch (teacher: Ms Sylvie Thimmesch)